Stephen Fry leads cast for Borrowers adaptation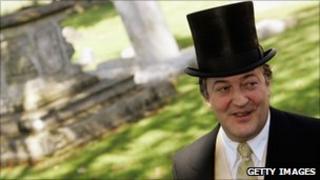 Stephen Fry, Victoria Wood and Christopher Eccleston have been cast in a BBC adaptation of The Borrowers, due to air this Christmas.
Fry will play evil Professor Mildeye, while Wood plays Grandma Driver, who wants to remove the Borrowers from her house.
Eccleston will star as Pod, the father of teenage Borrower Arrietty.
The Borrowers is a series of novels by Mary Norton about "little people" who live under the floorboards.
Ben Stephenson, controller of BBC drama commissioning, described the adaptation as "a brilliant and bold contemporary version of this classic tale with all the charm of the original but with a thrilling, moving and modern sensibility."
Ben Vanstone, a writer on BBC One series Merlin, has adapted the screenplay, while the film will be produced by Working Title.
The 90-minute production will be shown on BBC One.
The cast also includes Robbie Sheehan of Misfits fame, Aisling Loftus, Sharon Horgan and Shaun Dooley.
Sheehan is cast as tearaway Spiller, who takes a shine to Arrietty Clock, who is played by Loftus.
The Borrowers was first published in 1952 and won the Carnegie Medal for outstanding children's book the same year.
A Hollywood adaption of the book was released in 1997, starring Jim Broadbent and John Goodman.
According to Vanstone's Twitter page, filming of the BBC version starts in the last week of June.