DJ Jon Gaunt loses 'Nazi' jibe court appeal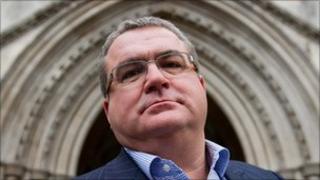 DJ Jon Gaunt has lost his appeal against a High Court ruling upholding Ofcom's 2009 decision to censure him.
The former Talksport presenter, who called a councillor a "Nazi" on air in 2008, took Ofcom to court last year.
He claimed the watchdog's decision to uphold complaints against him in June 2009 was an unlawful interference with his freedom of expression.
Ofcom censured the host under its rules on offensive material after receiving 53 complaints from the public.
Gaunt's contract was terminated by TalkSport in November 2008, 10 days after the exchange with councillor Michael Stark.
Last year Gaunt's lawyers challenged Ofcom's finding that the 2008 interview failed to comply with the broadcasting code.
His legal team argued that Ofcom infringed Gaunt's right to free speech under article 10 of the European Convention on Human Rights.
'Ignorant pig'
But, speaking in July 2010, Judge Anthony May said Ofcom was justified in its conclusion and dismissed legal proceedings.
"The broadcast was undoubtedly highly offensive to Mr Stark and was well capable of offending the broadcast audience," he ruled at the time of the High Court ruling.
"The essential point is that the offensive and abusive nature of the broadcast was gratuitous, having no factual content or justification."
Gaunt's interview with Redbridge councillor Mr Stark took place in November 2008.
The pair had been debating the council's decision to ban smokers from fostering children when Mr Gaunt called Mr Stark a "Nazi", a "health Nazi" and an "ignorant pig".
Mr Gaunt apologised on-air following the exchange, but Talksport sacked the presenter after its own investigation.
The media regulator noted the apology, but later upheld the complaint under the rules regarding offensive material.