Treme star Clarke Peters prepares to play Othello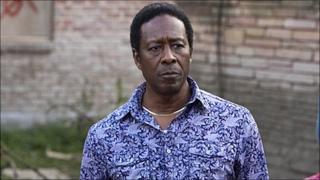 As police detectives Lester Freamon and Jimmy McNulty in the acclaimed crime drama The Wire, Clarke Peters and Dominic West were a formidable team on the side of justice in the battle against Baltimore's drug dealers and killers.
The pair are set to reunite on stage in September in a production of Othello marking the 40th anniversary of the Crucible in Sheffield.
"I said I would only do it if they got Dominic to be Iago," says Peters.
"The only downside to this whole thing is that we have to make sure we get some work done," he laughs.
Born in New York and raised in New Jersey, Peters has lived in the UK since the 70s.
In 1992, he received a Tony Award nomination in the US for Best Book of a Musical for his show Five Guys Named Moe.
Last year, he starred in a production of the show at the Edinburgh Fringe and played the title role in Porgy and Bess at the Savoy Theatre, directed by Trevor Nunn.
Othello, directed by Daniel Evans, will mark his debut in a major production of the play.
"It was something that we obviously had to learn about at school. I had always wanted to do Othello and then when I got to England, there was such a huge debate over the 'fact' that there didn't appear to be a black actor in the world who could do it.
"I thought, if that's how they feel in England, then screw Shakespeare.
"Having said that, a few years after that I was asked to do Othello in Greenwich."
Black role
Written in 1603, Othello is one of Shakespeare's tragedies based on an Italian story A Moorish Captain by the poet Cinthio.
Although the character of Othello is black, many white actors have appeared in black make-up through the years, notably Laurence Oliver in an Oscar-nominated 1965 film and Anthony Hopkins in a 1981 production for BBC television.
It wasn't until 1999 that Ray Fearon became the first British black actor to portray the role with the Royal Shakespeare Company.
"What is enduring about it quite honestly is that it was a part that was written in the imagination of a white man about a black man," says Peters.
"What makes it iconic is that actors at the time found that to be an enormous challenge.
"If I didn't think that we would have a great time and contribute to a wonderful production then I wouldn't be doing this."
The play is part of a season celebrating the 40th anniversary of the Crucible, famed as the home of the world snooker championship as it is for its theatre productions.
It re-opened last year after a £15m refurbishment.
And Clarke, it turns out, is no stranger to the south Yorkshire city.
"I did a bit of my training in Sheffield and made my directing debut up there and my mentor Clare Venables was based up there."
Venables, who died in 2003 of cancer, was artistic director at the Crucible and one of the first women to run a major theatre.
"I still miss her, when Clare took over the Crucible, it was on its way down. She brought snooker to the Crucible to bring in revenue to do the arts. This was the personality of the woman that was my mentor.
"That's whose company we're in when we go up there, she was the best."
Big chief
Aside from his upcoming play, Peters is also one of the principal cast members of Treme - the latest drama series from the pen of David Simon, writer and creator of The Wire.
The show is set in the aftermath of hurricane Katrina and follows ordinary residents of New Orleans as they try to rebuild their lives.
Peters plays 'Big Chief' Albert Lambreaux, the leader of a Mardi Gras Indian tribe who is trying to bring his scattered people back home and revitalise his neighbourhood.
With names likes the Guardians of Flames, Comanche Hunters and Young Brave Hunters, the Mardi Gras Indians have been parading in New Orleans since the mid-19th Century.
It is thought the tradition began from an affinity between native Americans and Africans as minorities within the dominant white culture.
In an early episode, Peters wears the chief's full outfit. "Heavy" is how he describes it.
"Its a transformative kind of thing, sometimes you put on a costume and adopt a character. But the Indian suit plays you.
"The ritual that was going on while I was putting it on brought all kinds of energies to the moment. It was almost palpable."
Filmed on location in New Orleans, the show has been praised by critics and native New Orleanians as an accurate portrayal of the city and its unique culture.
"There's an expression 'feel the love', well I feel the love in New Orleans. There isn't one day when someone does not approach anybody in our company to gush about how well this particular story is being told," says Peters.
"And they want it to be told."
This marks the third time he has worked with Simon, having also starred in the precursor to The Wire, The Corner - where he played a drug addict.
Treme, named after an area of the city, was nominated for two Emmys and a third series has just been commissioned by HBO
Clarke says: "I didn't realise how anxious I was about it until I heard the news and I felt about two inches taller, it's very exciting."
The second series of Treme will be shown in the UK on Sky Atlantic later this year.