Wim Heldens wins 2011 BP Portrait Award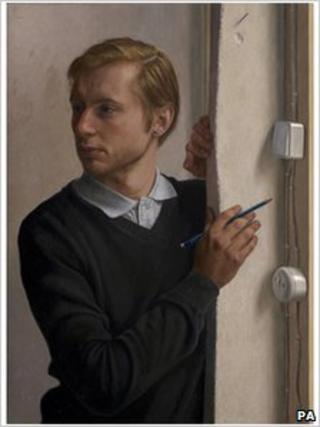 An artist who has painted his sitter for nearly 20 years has won the National Portrait Gallery's art prize.
Wim Heldens, 57, won the £25,000 BP Portrait Award with Distracted, which shows sitter Jeroen at the age of 25.
The winner of the annual prize first painted Jeroen when he was seven and has pictured him on 17 occasions.
Louis Smith, 41, won second prize for his portrait of a near-naked model and Ian Cumberland, 28, took third prize for his portrait of a friend.
The young artist award went to 28-year-old Sertan Saltan, who lives in New York, for her image of a woman in hair rollers and latex gloves glancing "menacingly" at the artist while sharpening a large knife.
The winning artist, who is from Amsterdam, said of the sitter: "I have been fascinated with painting Jeroen in all stages of life through growing up. Now he is an intelligent and sensitive young man."
National Portrait Gallery director Sandy Nairne said Heldens had offered "a quiet but evocative study".
"It is an outstanding work in the midst of a truly diverse field of new portraits," he said.
Climate activists targeted the award ceremony in protest against sponsorship from oil company BP.
Protesters claimed BP was using the arts in a bid to divert attention away from its impact on the environment.
A spokesman for the National Portrait Gallery said sponsorship by the oil company "directly encourages the work of artists and helps gain wider recognition for them".