Russell Crowe 'sorry' over circumcision Twitter comment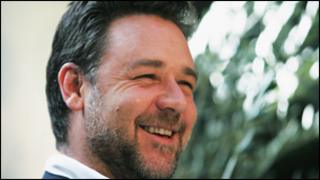 Hollywood star Russell Crowe has apologised for criticising the ritual of circumcision on his Twitter account.
Crowe said the procedure was "barbaric and stupid" but later deleted his comments.
He later wrote: "I'm very sorry that I have said things on here that have caused distress.
"My personal beliefs aside, I realise that some will interpret this... as me mocking rituals and traditions of others. I am very sorry," he added.
Teasing
In other messages, the Oscar winner railed against the argument that circumcision aids hygiene, but later said his comments were "insensitive".
Crowe had directed some of his tweets to film-maker Eli Roth, who wrote and produced Crowe's upcoming film, The Man With the Iron Fists.
"I love my Jewish friends, I love the apples and the honey and the funny little hats but stop cutting your babies @eliroth," he wrote.
Roth responded: "You didn't seem to be complaining when I was re-cutting you this afternoon."
Roth defended Crowe against the his detractors in a statement.
"Russell and I are great friends, and often tease each other publicly, as you can see from my response.
"Not one person from any media outlet contacted me to ask if it was a joke or not before running their vicious stories, which is indicative of a much more serious problem," Roth added.
San Francisco voters are due to face a proposal in November on banning circumcision for under-18s.
Opponents say such a move would violate the rights of groups including Jews and Muslims who consider the practice a sacred religious rite.