Coasters singer Carl Gardner dies aged 83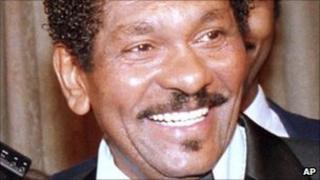 The Coasters lead singer Carl Gardner has died aged 83, it has been announced on the band's website.
The star passed away at a hospice in Florida. He had been suffering from congestive heart failure and dementia, his wife Vet said.
"He loved his singing. That was his whole life," she told news agency The Associated Press.
Inducted into the Rock and Roll Hall of Fame in 1987, The Coasters had hits including Yakety Yak in 1958.
The song went to number one in the US chart Billboard Hot 100 and was used as the theme tune for Clive Anderson's television programme in the UK during the 1990s.
The R&B group also had hits with Searchin', Poison Ivy and Young Blood.
"He was such a humble person. If you met Carl, you would never know he was famous," his wife added.
Gardner, who founded the band in 1955, retired in 2005 and was succeeded as lead singer by his son Carl Gardner Jr.
The star was also fought for legislation, which was passed in 2007, which prevented bogus groups from using the names of famous acts including The Coasters.