Lovely Bones drew most complaints to UK ratings body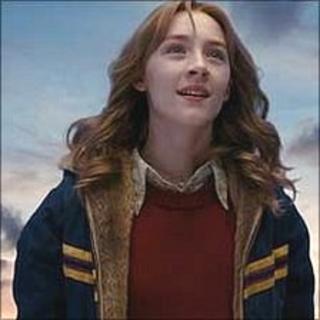 The board that classifies films for UK distribution received more complaints about The Lovely Bones than any other 2010 movie, it is revealed.
The decision to give Peter Jackson's film a 12A rating resulted in the British Board of Film Classification (BBFC) receiving 24 objections.
The film is about a murdered girl who watches over the lives of her family and her killer from the afterlife.
"Many found it to be a shocking and upsetting experience," the BBFC said.
According to the BBFC's annual report, the film - based on Alice Sebold's novel - was "right on the borderline" between a 12A and a 15.
But because it "lacked any explicit detail of the murder" and "had many positive messages about life", the decision was made to give it the lower certificate.
Other films to prompt complaints included Kick-Ass, a comic book action film about a young man who decides to become a superhero.
Its graphic violence and the use of very strong language by a child character resulted in Matthew Vaughn's movie receiving 21 complaints.
The BBFC justified its 15 rating because there was "a lack of focus on injuries and suffering" and "an absence of any sadistic or sexualised element to the violence".
"The Board's view was that the fantastical and tongue-in-cheek nature of the situations would be self-evident to most audiences," its report states.
Toy Story 3, Harry Potter and the Deathly Hallows Part 1 and Disney's The Princess and the Frog were among the other 2010 releases to generate complaints.
The BBFC also received letters about disruptive cinema audiences, ticket prices and rude box office staff, as well as requests that it indicate whether films advertised as comedies were actually funny.