Anthony van Dyck painting to be auctioned at Sotheby's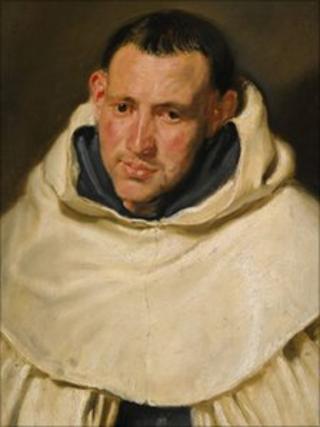 Sotheby's London is to auction a portrait of a monk, credited to Anthony van Dyck, that was previously thought to have been painted by Rubens.
The work, owned by the same French family for at least 200 years, was known as Confesseur de Rubens.
Sotheby's says experts noticed brushwork more characteristic of Rubens' pupil Van Dyck.
Meanwhile, a dealer who rediscovered Van Dyck's A Portrait of a Young Girl, in 2010, has spoken of his find.
Thick paint
The artist's Portrait of a Carmelite Monk, which is estimated to sell for £600,000-£800,000 when it is auctioned on 6 July, was among artworks valued for a family by the Sotheby's Paris office.
The auction house's George Gordon said that the way the monk's head was turned to one side created an impression of spontaneity as opposed to the more formal composition of Rubens' portraits.
He also said the brushwork was clearly legible throughout - a trait of Van Dyck's when he was working in Rubens' studio - and that the use of thick paint in the monk's habit was also characteristic.
Sotheby's said a large number of scholars now agreed with the view that it was painted by Van Dyck towards the end of his time working with Rubens, around the period from 1617 to 1620.
"This is a very exciting discovery and a painting of really extraordinary quality and visceral power," said Mr Gordon.
Meanwhile, art expert Philip Mould has revealed how he spotted potential in a painting - put up for sale by Christie's Paris with an estimate of 15,000-20,000 euros - (£13,200-£17,600) described as being created by an unidentified artist of the Flemish school.
After doing further research, he ended up buying Portrait of a Young Girl for 1m euros (£880,000) - more than 50 times its top estimate.
He says it is now worth three times that.
"Cleaning dramatically revealed its former glory including previously obscured details, such as the ribbon in the girl's hair and the usual range of colours, glazes and half-tones one would expect to see in a Van Dyck," Mr Mould said.
The painting is the centrepiece of a Finding Van Dyck exhibition at his business, Philip Mould Fine Paintings, in London.