Obituary: Larry Hagman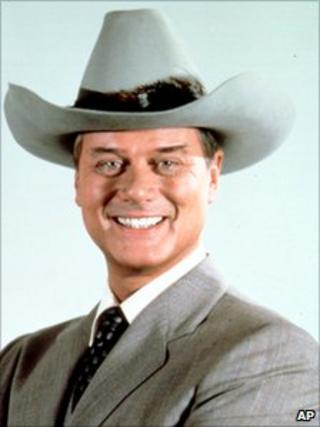 With his wide-brimmed hat, weasel grin and Texan drawl, Larry Hagman made JR Ewing one of the world's greatest soap icons.
During 13 years as the most scheming oil tycoon in Dallas, his face was one of the most easily recognised on television.
Born in Texas himself, Larry Hagman later moved to Los Angeles where he was cared for mainly by his grandmother.
His father had left the family home when Larry was only five, and his mother, actress Mary Martin, was often away touring.
After a brief period spent working in the fields, Hagman followed his mother into showbusiness and even toured with her. When Martin brought South Pacific to London's West End, Hagman was in the chorus.
Southfork scheming
But it was on television that he really made his mark, as astronaut Tony Nelson in the 1960s television comedy I Dream of Jeannie.
He landed the role that would define his career in 1978, when he first performed as JR Ewing in a new series designed to showcase the talents of actress Victoria Principal.
She initially welcomed Hagman on to set with the words: "Welcome to my show."
But it was Hagman, as the city's chief mischief-maker, that would make the bigger impact.
Dallas came to define 1980s excess, and viewers could not get enough of it.
Millions watched as JR schemed to rule the roost at Southfork, get rid of "that idiot Barnes", ruin his brother Bobby's life and send his troublesome wife Sue Ellen packing to a lunatic asylum.
The show originally ran for 356 episodes, at its peak drawing in more than 300 million viewers in 57 countries. Hagman was the highest-paid star of the show, and JR in his Stetson became one of the most distinctive silhouettes on television screens across the world.
Record-breaking cliff-hanger
The actor himself owned more than 2,000 such cowboy hats, and obligingly wore one each time he appeared on chat shows or public outings.
In November 1980, more than 350 million viewers worldwide tuned in to discover the answer to one of the decade's biggest questions: Who Shot JR?
In Turkey, the parliament even adjourned early so that members could get home to their television sets.
In an unprecedented display of media hype, the crew shot several alternative scenes to start the new series, and even cast members were surprised when the assailant turned out to be Kristin, JR's sister-in-law and one of his spurned lovers.
When Dallas finished in 1991, Hagman found his choice of acting offers limited to villains, a frustrating time for the actor who, softer than his television persona, eschewed physical violence. Nonetheless, he went on to appear in hit films Nixon and Primary Colors.
Off-screen excess
His forthright biography, Hello Darlin', detailed his youthful drug-taking exploits and revealed the extent of his 50-year battle with alcoholism.
Even on the hardworking set of Dallas, he consumed five bottles of champagne a day for years and was finally diagnosed with cirrhosis of the liver in 1992.
Three years later he had a liver transplant and kept a photo of the organ donor above his mirror.
"I say a prayer for him every morning," he said.
Despite this, Hagman continued to drink secretly until a further life-saving operation in 2003 forced him to stop.
A new version of Dallas returned to the screens earlier this year, with an average of 6.8 million viewers tuning in for its debut episode in the US in June, before it was aired in the UK in September.
The series saw JR, Bobby and Sue Ellen reunited and Hagman said they would not have participated if any one of the others was not on board.
"We're the three musketeers," he said. "I wouldn't have done it if they had said no."
The series opened with JR convalescing in a nursing home, but it was not long before he was back to his scheming ways, attempting to wrest control of Southfork from Bobby and his new wife.
His on-screen persona was matched by a big personality off it, and he was renowned for his eccentric behaviour.
This included roaring around on his Harley Davidson, sometimes dressed in a chicken suit, and staying absolutely silent every Sunday, believing it to be therapeutic.
It seemed that Larry Hagman was never overwhelmed by his status as one of television's most memorable stars.
"My happiness comes from being a husband, father and grandfather of five, not from stardom, which is a fluke," he said.