Glee to be shown on Sky from autumn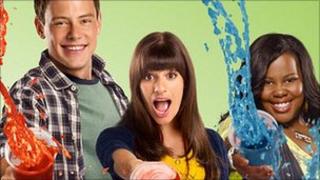 US hit show Glee is to be screened in the UK on Sky from this autumn, it has been confirmed.
The musical comedy will move to the satellite channel after Channel 4 walked away from rights negotiations to broadcast the show last month.
Sky had reportedly offered to pay £12m for the third series, more than double the amount Channel 4 paid for its first two seasons.
The last free-to-air episode will be shown on E4 on Monday night.
Glee was a ratings winner for the digital channel when it first aired in the UK in 2009.
The current series has pulled in up to 2.6m viewers, making it the channel's biggest ratings winner to date.
All future series of the show will be shown on Sky under the new deal.
Cast changes
Stuart Murphy, director of programmes for Sky said: "It's the perfect fit for Sky 1 and we're thrilled to be able to build on the success it has already achieved."
Sky will also screen reality show The Glee Project later this year, where the winner will appear in seven episodes of the main series.
Meanwhile Glee writer Ian Brennan has spoken about cast changes, as some of the characters will be graduating from high school by the end of the series.
"I just think we would be missing a beat if we didn't acknowledge the fact that a huge part of high school is graduating from high school, and that's going to give us a lot of stuff to write to in season three," he told E!
"We aren't going to change the entire cast, but some of the cast will graduate."
Celebrities including Gwyneth Paltrow, Britney Spears and Olivia Newton-John have all appeared as guest stars on the show.
Its cast, who have notched up more than 20 top 40 singles with their covers of pop hits, are about to embark on a tour of the UK and Ireland later this month.