How War Horse took on the world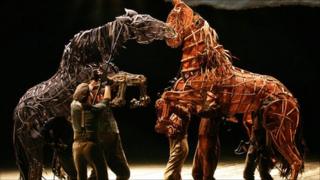 Is there no stopping War Horse, the hit stage adaptation of Michael Morpurgo's novel that has just five Tony awards in New York?
Britain's War Horse is on a roll. The five Tony awards - including best play - it picked up on Sunday have given a further boost to its growing international profile.
The play is still enjoying an open-ended run in London's West End, where it has sold more than a million tickets.
Its success on Broadway has prompted plans for a 20-city US tour.
The play will next be staged in Canada and Australia - and talks are also under way for a Japanese production.
The War Horse brand will become truly global at the end of the year when a Steven Spielberg movie - inspired by the play - opens in US cinemas.
The film, which stars British actors Benedict Cumberbatch and Emily Watson, is set for a UK release on 13 January.
The story at the heart of War Horse - the relationship between a young boy from Devon and his horse as they are plunged into the horrors of World War I - continues to exert a strong pull on audiences.
Many consider the play's life-size horse puppets the most striking aspect of the production.
War Horse originated at the National Theatre in London in autumn 2007. Sir Nicholas Hytner, the venue's artistic director, has no doubt why it is gathering steam internationally.
"Much of the narrative and emotional burden is carried by a language that is international," he says.
"The puppetry exists independent of the spoken word, independent of text. It works almost in the way that dance works."
Though there may be slight variations in the stagings of War Horse in Canada and Australia, they are all being planned and masterminded by a creative team in London.
'Forgotten war'
Yet the National has no artistic control over the War Horse movie, which Spielberg shot in England last year.
The director's producing partner, Kathleen Kennedy, sees War Horse as a cultural phenomenon with gravitas.
"In cinema we've told very few stories about World War I and I think that's one of the things that attracted us to this," she explains.
"It's a forgotten war in the United States, and that had a very powerful effect on Steven and I."
Spielberg is a master at sentimentalising stories, prompting concerns that an already emotional work will be transformed into a shiny Hollywood melodrama.
Yet Scottish actor Peter Mullan, who has a significant role in the movie, doubts that will be the case.
"As far as I know it's going to look at the truth of what happens in the battlefield," says the My Name is Joe star.
"How much it's going to move towards Hollywood gloss, I have no idea. I'd be surprised if it does, very surprised."
"I think he's held himself in check," says Kennedy of Spielberg, with whom she has worked since 1979.
"I think there's no one better to direct and tell this story. I think it was tailor-made for him."
At a time of significant cuts in UK arts funding, the National has clearly benefited from War Horse's expanding reach.
"It's very good news for the National Theatre," says Sir Nicholas Hytner, "It's helped us enormously.
'A bit of a dream'
"We produce it ourselves in the West End, we co-produce it in New York and we will keep significant financial interest in all future productions. It's been enormously useful to us."
War Horse's success continues to astonish British author Morpurgo, whose 1982 novel provided the inspiration for the theatre production and movie.
"I think it's a bit of a dream to walk down Broadway and see a poster of War Horse," says the former Children's Laureate.
"You can't quite believe it. This is a book, after all, that was written in 1982 which did not do very well."
Morpurgo thinks it poignant that the play's profile in America is rising at a time when the US is involved in military conflicts. "This story is about the universality of suffering in war," he says.
The author acknowledges the War Horse juggernaut is adding to his personal coffers. "I've been really lucky," he admits.
"It makes me richer than I was and there's a danger in that. because it's never good to have too much.
"I don't deserve this, but it's just lovely that it's happened."
War Horse's growing prominence beyond British shores is all the more unexpected given the fact it has no showy song and dance routines and no big name stars.
"It's highly unusual for a show that isn't a musical to have this kind of global appeal," agrees Sir Nicholas.
Nor are this weekend's Tonys likely to be the last accolades showered on this affecting tale of a boy and his steed.
The War Horse movie may still be in post-production, yet it is already being mentioned as a serious contender for next year's film awards.