Writer Kay Mellor pens cuts drama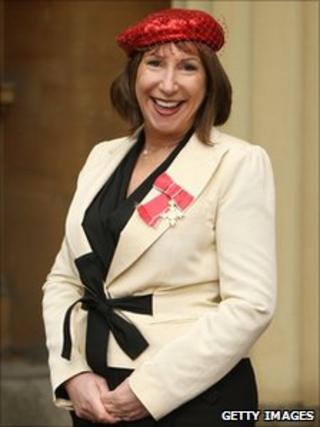 Writer Kay Mellor is tackling the fall-out from government cuts and the recession in a new drama for BBC One.
Five-part series The Syndicate, about a group of Lottery winners, was inspired by a friend who was losing her job.
"It's looking at where we're at today, in light of this coalition government and the current cuts," said Mellor, who wrote Band of Gold and Fat Friends.
"A friend rang up and said: 'Well I haven't won the Lottery this week', and it just came like that."
Mellor said the series would not be political "with a big P", but that it would tell the story of people, like her friend, who were at the mercy of the economic downturn.
"She's a woman of a certain age, she's going: 'Will I get work?'. There's a million and one things going on in her life - she's got mortgages and things to pay and is worried about her life, obviously.
"She lives her life from one worry to the next," Mellor said.
The writer is known for sharp works of social realism, such as Band of Gold, about a group of prostitutes in Bradford in the 1990s, and Fat Friends, about a slimming club.
The Syndicate will follow six workers at a cut-price supermarket in Leeds.
"There are a lot of people who don't know where their next penny's coming from, and more and more you hear people going: 'Well, I haven't won the Lottery this week'," Mellor said.
"I was thinking, what if somebody does? Let's have a look at money. Let's see what happens.
"I've taken my research seriously, so I've met up with a few Lottery winners and talked to them."
Filming will begin in September for transmission next year.