Spider-Man musical faces unpaid royalties claim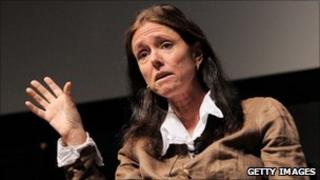 The original director of Broadway's Spider-Man musical has not been paid royalties for working on the project, her union has said.
In an arbitration claim filed this week, the union representing directors said Julie Taymor had "given nine years of her life to this project".
The show's producers have yet to comment on the claim.
Spider-Man: Turn Off the Dark, which has been beset by technical problems, is opening officially next week.
Some cast members suffered injuries during the previews, which began in November.
Taymor stepped down as director in March, to be replaced by a new creative team that shut down the show for three weeks to rework the production.
According to the union, the 58-year-old has received no payment beyond her original director's fee of $125,000 (£77,000).
The Stage Directors and Choreographers Society said that the show's producers have "absolutely no right... to withhold royalties that are due to her".
Spider-Man: Turn Off the Dark will have its opening night on 14 June after more than 180 preview performances.
Taymor is a stage, film and opera director best known for her award-winning stage adaptation of Disney's The Lion King.