Sky to increase homegrown programming spend by 50%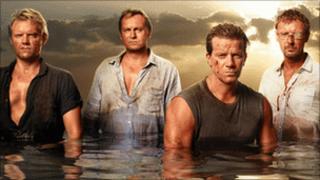 Sky will raise spending on original UK TV programming to £600m a year over the next three years - an increase of more than 50%, its chief executive says.
Jeremy Darroch also revealed that the broadcaster expected to spend £380m on original UK production this year.
The figure does not include sports rights or overseas acquisitions.
Last year, BBC director general Mark Thompson urged Sky to "pull its weight by investing much, much more in British talent and British content".
Sky cites dramas including Mad Dogs - which reunited Life On Mars actors John Simm and Philip Glenister - and Thorne, starring David Morrissey, as examples of recent successes in original drama.
Bafta-winning David Attenborough documentary, Flying Monsters 3D, and arts programming including In Confidence, which has featured interviews with Damien Hirst, Jonathan Miller and Lily Allen, also reflected its increasing focus on British commissions, it said.
'Different scale'
Mr Darroch, speaking at an event organised by think-tank Reform, said that, in its early days, Sky had focused on "relatively under-served" areas including sport, films and 24-hour news.
Business plans over the next three years would take Sky's original entertainment to "an entirely different scale" complementing those initial strengths, he said.
This year's expected spend of £380m already made Sky one of Britain's biggest supporters of home-grown programming, Mr Darroch added.
He said forthcoming highlights included a new series from Shameless creator Paul Abbott, comedy drama Stella, from Gavin and Stacey's Ruth Jones, and a second series of drama Strikeback, a co-production with America's HBO.
"Home-grown content resonates strongly and we believe we can both bring more quality and value to existing customers, while also reaching out to more people who haven't yet chosen pay TV," said Mr Darroch.
In his McTaggart speech at the Edinburgh International Television Festival in August, Mark Thompson suggested Sky must do more to produce original content.
He said more focus on programme-making would be "good for the BBC and good for the industry", he said.
Mr Darroch said, on Wednesday, that new programming like Sky's was "inherently risky and time-consuming"
"But if we get it right, the results won't just be good for our business, but for customers and Britain's creative industries as well."
He said Sky employed 2,500 people directly in skilled broadcasting and production roles, and was currently working with more than 100 independent production companies.