Wimbledon Championships will be broadcast in 3D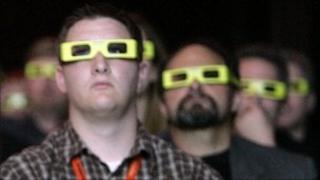 This round-up of today's main media stories includes news that the BBC's first live 3D TV broadcasts will come from Wimbledon.
The BBC will broadcast the men's and women's singles finals at this year's Wimbledon Championships live in 3D. BBC News reports the matches will be the first programmes to be shown in 3D by the BBC. The free-to-air broadcast will be available to anyone who has access to a 3D TV set and HD Channels.
Owen Gibson adds in the Guardian that it is 44 years after the BBC beamed its first ever colour pictures from SW19, its Wimbledon coverage and "will again be at the technological cutting edge". He says BSkyB has shown more than 100 sporting events in 3D since it broadcast Arsenal's clash with Manchester United in January last year.
A millionaire will be shown taking his life at a Swiss clinic in a BBC documentary about assisted suicide, reports the Daily Telegraph. It says Peter Smedley, who was suffering from motor neurone disease, is referred to only as "Peter" in the BBC2 film, Choosing to Die, which will be broadcast on Monday. "Until now, his full identity has remained a secret, but his friends have told The Daily Telegraph of his determination to help change the law on assisted suicide and paid tribute to his courage".
Mark Lawson says in the Guardian David Cameron wants broadcasters to keep TV clean before 9pm but he's fighting a losing battle. He says the Prime Minister may well achieve "a clean-up of live talent shows and high-profile terrestrial TV series that go out close to 9pm.... But there are now hundreds of digital channels, many of whose post-watershed schedules go far beyond any level of explicitness ever contemplated by the older networks and over which Ofcom has only loose control."
The writer of Father Ted Graham Linehan has accused Radio 4's Today programme of "poisoning" national debate by contriving "artificial" arguments between guests, reports the Daily Telegraph. In his blog, he claims he was "ambushed" during an appearance after producers tried to lure him into a dispute with a theatre critic. A BBC spokesman said: "There was certainly no intention to 'ambush' Mr Linehan and we are sorry if he took it that way, but our producers felt they had clearly explained in advance how the discussion would play out."
The increase in energy bills announced by Scottish Power provokes indignation in the papers, as reported in the BBC's newspapers review.