The Cat Who author Lilian Jackson Braun dies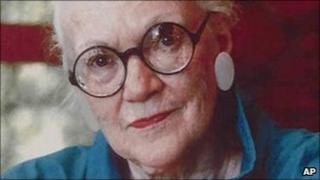 Lilian Jackson Braun - the author of 29 The Cat Who... books about a crime-solving journalist and cat owner called Jim Qwilleran - has died aged 97.
After her first book, The Cat Who Could Read Backwards, was published in 1966, the New York Times called her "the new detective writer of the year".
But after publishing two more Cat Who... books she took an 18-year hiatus before resuming the series in 1986.
She died on Saturday in a hospice in Landrum, South Carolina.
Her husband, Earl Bettinger, told the AP news agency she had parted company with her first publisher in the 1960s because she had refused to add sex and violence to her fourth book.
Mr Bettinger said that when he read the rejected book years later, after his wife had retired from her job as a feature writer for the Detroit Free Press, he demanded she sent it back to publishers.
Penguin Books imprint Berkley Publishing Group accepted the book and also reprinted her first three mysteries.
"A woman from Germany called and said she was coming to America and said she would like to meet Jim Qwilleran," said Mr Bettinger.
"That's how real her characters were."
Braun, who also published two short story collections, retired in 2007 after the publication of The Cat Who Had 60 Whiskers.
Her longtime editor, Natalee Rosenstein, said Braun - whose books were translated into 16 languages - had "ultimately created a whole new chapter in the American mystery".