Arthur Darvill goes from Doctor Who to Doctor Faustus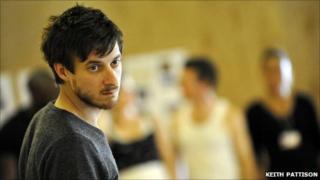 Arthur Darvill, best known as Rory in Doctor Who, talks about secrecy on the show, his new stage role at Shakespeare's Globe and why he spent his childhood surrounded by puppets.
For Arthur Darvill, last Saturday's mid-season climax of Doctor Who came as something of a relief.
It means he can finally talk about the big revelation that Tardis companions Rory and Amy Pond are the parents of the enigmatic River Song, played by Alex Kingston.
"I forget what I can and can't talk about, so I end up talking about nothing for hours - which has become quite a skill," laughs Darvill when we meet two days later at the Globe theatre on London's South Bank.
"My mum sent me a text straight after the episode saying: 'Does this mean I'm Alex Kingston's grandmother?'"
Sporting a ginger beard, Darvill is deep in rehearsals for the Globe's first production of Christopher Marlowe's tragedy Doctor Faustus.
Darvill plays Mephistopheles opposite Paul Hilton as Faustus, the scholar who makes a pact with the Devil in exchange for knowledge.
"It's been a play that I've loved since I was quite young," says Darvill.
"Mephistopheles is an agent of the Devil in human form. I find the relationship he has with Faustus and the people whose souls he collects quite fascinating."
The production, perfomed in Renaissance costumes, features giant dragon puppets and horned stilt walkers to bring to life the fantastical elements of Marlowe's play.
It is familiar territory for Darvill, who grew up surrounded by puppets. His mother performed in a puppet theatre at the Midlands Arts Theatre in Birmingham.
"It was normal for me - I used to go on tour with her and help set up the puppets. Later on, my mum did children's TV - she was the Why Bird on Play Days for 10 years."
He adds: "There are puppets all over my house and I've got a ventriloquist's dummy. I'm rubbish at doing it, but I really like it."
Doctor Who effect
Across the river from the Globe, two former Tardis residents - David Tennant and Catherine Tate - recently took to the stage in Much Ado About Nothing at Wyndam's Theatre.
And over at the Donmar Warehouse, Alex Kingston stars next week in Schiller's Luise Miller.
Is Darvill expecting fans of the sci-fi show to flock to Faustus?
"If people who wouldn't normally come to the theatre come because they are fans of Doctor Who it can only be a good thing," he says.
"Maybe it will inspire them to see other things. We've got such a brilliant theatrical tradition in this country."
Darvill got hooked on the theatre during trips to the Edinburgh Festival and Stratford.
He trained at the Royal Academy of Dramatic Art, and his theatre credits include Swimming With Sharks in 2007 with Matt Smith - who was cast as BBC's Time Lord two years later.
"When he got Doctor Who I didn't have a clue I'd be doing it, so when I got the part of Rory it was great to turn up on the first day and work with someone who's a good mate. It made things very much easier on such a big show."
We return to the subject of Saturday's episode, and the secrecy around the River Song revelation.
"The press have been really good at keeping things under wraps - otherwise it's like watching a football match and knowing the result," Darvill says.
"I suppose it's testament to the show that people care about it so much. I'm so excited the second half of the series that's coming up - what Steven [Moffat] has done is something quite brilliant - it's really going to surprise people."
A bigger surprise than Rory being River Song's dad?
"Oh that's nothing!" he laughs, and exits to resume his new persona as Satan's servant.
Doctor Faustus by Christopher Marlowe, directed by Matthew Dunster, is at Shakespeare's Globe from 18 June to 2 October.