Meet new children's laureate: Julia Donaldson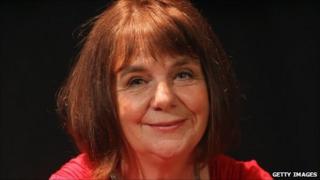 New children's laureate Julia Donaldson talks about the joys of busking and why The Gruffalo won't appear as a smart-phone app.
"I know it's going to be busy," confides Julia Donaldson, a few minutes before she is officially unveiled in central London as the children's laureate for 2011-12.
"Anne Fine, one of the previous laureates, sent me an e-mail saying the most important thing is to book two really good holidays!"
Donaldson, the author of more than 120 books including Room on the Broom, Zog, and teenage novel Running on the Cracks, takes over from outgoing laureate Anthony Browne.
The 62-year-old writer, who was born in London and lives in Glasgow, is best known for The Gruffalo, the story of how a mouse outwits a mythical creature.
Donaldson plans to spend much of her laureateship promoting literature through performance. She wants to encourage "10-year-olds to act out stories for younger children".
Her biggest challenge, she says, will be the fight against library cutbacks.
"It will be a lot of work," she says, "but it will be the sort of work that I can learn a lot from. As an author you do get a bit sick of answering questions just about yourself and your childhood."
Having sold millions of books, just how big is her postbag?
"Very big," she replies. "I get at least 30 schools writing to me each month. It is lovely, I put the best ones up on the loo wall."
She adds: "I got one the other day saying 'Dear Julia Donaldson, do you have your own library? And do you have your own husband?'"
Donaldson met her husband, Malcolm, when they were at Bristol university. She was studying drama and French and he was a medical student.
"We went busking together in Paris and that's how romance blossomed," she recalls.
The busking led to a career in songwriting for children's television which in turn led to one of her songs, A Squash and a Squeeze, being made into a book, illustrated by Axel Scheffler.
The pair went on to collaborate on The Gruffalo and many other books.
No apps
When she is not writing, Donaldson still likes to perform her stories and songs - with Malcolm on guitar. "In a way it's gone full circle back to busking - except we don't pass the hat round any more."
This year is the first time that the children's laureate post receives the branding of Waterstone's in the title. Does Donaldson have any reservations?
"I feel okay about it," she says. "Waterstone's are the biggest sponsor and you can see why they want their name there.
"That's not to say I can't be a spokesperson for independent bookshops. I do feel very strongly about them and I'm hoping to do a tour of small independent bookshops."
As increasing numbers of books become marketed via smart-phone apps, Donaldson admits she's not keen on the idea for her own works.
"I've said I don't want it for The Gruffalo, in my contract it says the publisher will get the electronic rights with my consent - if I say I don't want it it doesn't have to happen.
"I saw an Alice in Wonderland app with her neck growing and shrinking - no child with that is going to bother to listen or read the words. That doesn't do anything for me."
Meanwhile, Donaldson is not worried her work as laureate will get in the way of her writing.
She says: "Luckily I had a creative spurt earlier this year and I got a couple of texts finished. I may not be able to write a novel during this time, but I can do all my thinking about shorter books when I'm on trains.
"So I don't think the public will notice any gaps."