Director Emmerich defends Shakespeare authorship film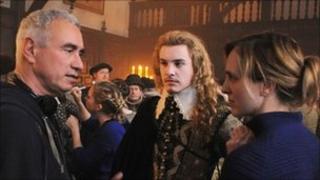 German film director Roland Emmerich has admitted courting controversy with his film that questions the authorship of Shakespeare's plays.
Anonymous portrays the Bard as an inarticulate buffoon, making nobleman Edward de Vere the true author.
Speaking at a debate, Emmerich said: "I know it is controversial, and I was going for the controversy."
He is best known for effects-laden blockbusters like Independence Day, Godzilla and disaster movie 2012.
Anonymous stars Rhys Ifans as de Vere - the 17th Earl of Oxford, Rafe Spall as Shakespeare and Vanessa Redgrave as Queen Elizabeth I.
"Art has to provoke," Emmerich told the audience the English-Speaking Union in Mayfair.
"That Shakespeare didn't write the plays is only one of the many scandals that this movie will unearth."
Having thrown down the gauntlet, Emmerich watched as academics from both sides of the argument engaged in a lively debate, broadcast live on the internet.
The debate was part-organised by Sony Pictures, who are releasing the film on 30 September.
The motion was that William Shakespeare of Stratford-upon-Avon was the author of the plays and poems attributed to him.
Supporting the motion, Shakespeare scholar Professor Michael Dobson of Birkbeck College, said :"I am very grateful to Roland Emmerich for perfectly underlining the very genre and character of what's called the Oxfordian case.
'Chimpanzee wearing oven gloves'
"It is no less and certainly no more than an absolutely terrific plot for a B-movie."
However, Dr William Leahy, head of the School of Arts at Brunel University, painted a portrait of Shakespeare as an "opportunist" who stole the work of those around him and passed it off as his own.
He added: "The six signatures he left... are written in a hand unlike someone who has made their living by writing. They look like they were written by a chimpanzee wearing oven gloves."
Charles Beauclerk, president of the De Vere Society, said Hamlet was "an expose of the Elizabethan Court" written by the Earl of Oxford.
The play was highly political, he said, so authorship was credited to Shakespeare to depoliticise it in the public arena.
"With Shakespeare as author, Hamlet becomes a harmless tale about an ancient Danish Prince," he said.
But Rev Dr Paul Edmondson, head of learning at the Shakespeare Birthplace Trust, put the anti-Shakespeare arguments down to snobbery.
'Terribly conspiracy'
"Nearly all of the alternative candidates are aristocratic, university-educated or both," he said. "Their proponents look down on Shakespeare as an uneducated commoner."
He went on: "William Shakespeare of Stratford-upon-Avon wrote the plays and poems attributed to him. His authorship was not even questioned until 1856...
"If he didn't write them, then we have to believe that thousands of people during his lifetime... were in on a terrible conspiracy. I think not."
At the end, Emmerich observed with a smile: "I'm amazed - you make a little costume B movie and you end up here at the English-Speaking Union."