First Conan Doyle novel to be published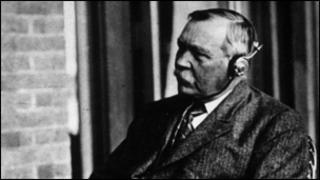 Sir Arthur Conan Doyle's first novel, The Narrative of John Smith, is to be published for the first time.
The book, about a man's reflections on life after he finds himself confined to his room with gout, was written between 1883 and 1884.
Conan Doyle sent it to a publisher but it was lost in the post and he then had to reconstruct it from memory.
It was never finished. The first Sherlock Holmes novel, A Study in Scarlet, was printed three years later.
Rachel Foss, lead curator of modern literary manuscripts at the British Library, is set to publish The Narrative of John Smith this autumn.
She said it had been part of the British Library's Conan Doyle collection since 2007 and realised it would make a good publishing project.
The Arthur Conan Doyle Literary Estate gave their consent to the plan.
Foss told the BBC the novel is "loose in plot and characterisation", as it was his first full-length effort, having written many successful short stories previously.
Although the writer made references suggesting he was embarrassed of this early work, Ms Foss says he worked on it again later in life suggesting he must have seen something worthy in the concept.
The novel sees John Smith ruminate on topics including politics and religion and also features several conversations with his boarding house landlady, Mrs Rundle.
"She is a Mrs Hudson in the making," Ms Foss says, referring to Sherlock Holmes's landlady.
The novel was written while Conan Doyle was in his early 20s, just after he had moved to Southsea, in Portsmouth.