Ray Davies: Meltdown curator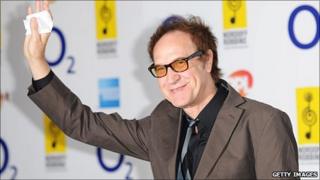 Following in the footsteps of David Bowie, Patti Smith and Morrissey, Ray Davies - founder of The Kinks and widely-regarded as one of the UK's finest songwriters - is curating this year's Meltdown festival.
The arts and music event on London's South Bank will include performances from the likes of Madness, Yo La Tengo and The Fugs.
Davies is also bringing back a live version of 1960s music show Ready Steady Go!, a precursor to Top of The Pops which featured performances from the likes of The Beatles and Jimi Hendrix.
Formed in north London in 1964 by Davies' brother Dave, The Kinks played together for 30 years, but the brothers' fractious relationship contributed to the band's demise in the mid-90s.
Have you curated a festival on this scale before?
Not really like this, the South Bank is an institution and this year being the 60th anniversary is appropriate - it's 60 years since the Festival of Britain kicked off. It opened in 1951 so I've tried to resonate through the decades and get people who have connections with London, with bands like Madness, so its symbolic in many respects.
I've never really done anything like this before but I've really enjoyed it.
So how does it work, do you come up with a list of artists which the organisers then veto?
I had a vision for it, I wrote a two-page proposal with suggested artists and they reflected that in all the side shows and what they've done for the South Bank. They've been very helpful, you know, you can't get everything you need but we tried the best to provide something that's a pretty good balance.
Did you have some fun coming up with the list?
It was a lot of fun, it's always fun to write your dream ticket but not everybody is always available. I would have liked to have got Bruce Springsteen over for an acoustic set but I'm very pleased with what we have. It's a good list of people.
Are you conscious of Meltdown's past curators? Bowie, Scott Walker, John Peel. It's quite an intimidating list.
I haven't really thought about what other people have done because they wanted something that was me. It was the same when I was with The Kinks, as an artist I've never thought about what other people do, I just do what I do and I retain that principle in most things.
It's difficult I'm sure to pinpoint one thing that you're particularly looking forward to but what do think will be a real highlight of the festival?
As a performer, I'm looking forward to doing the last concert. It's going to be the LPO (London Philharmonic Orchestra) and a choir of 90 people with me and the band. We're doing the whole of the Village Green Preservation Society album and I haven't played all those songs together since we recorded them. I went back to the songs and rearranged them.
We couldn't reproduce a Kinks record which has its own sonic world, but with the band and the orchestra, it's opened up the songs to be more of a narrative.
Will this be the biggest number of musicians you have ever had on stage with you?
I think so, we did a show in San Francisco in the height of the hippie days and everybody in the audience kind of ended up on stage although that was more more drug-induced.
But seriously I think it's the most musicians I've had on stage playing my songs.
Why have you decided to bring back a live version of Ready, Steady Go!?
I have such a fond memory of it, I think that it's something that is sadly lacking now. We were allowed to go and be ourselves but now on shows like The X Factor, people go on and it's what the judges want. Ready, Steady Go! encouraged bands to do what they wanted to do.
You can't bring the show back but that spirit has to make a return to new music because people love to see raw energy.
The Kast Off Kinks (made up of former band members) are also playing so your music will be well-represented through the festival.
Yes, though I must stress that it isn't a reunion, the reunion couldn't happen, my brother couldn't do it unfortunately. The rumours never go to bed, he's still thinking about it. I still think about it.
Being in a band is being part of amazing team - it's being in a team that I enjoyed. There's something special about growing up together like The Kinks did.
The Meltdown festival runs from 10-19 June.