Adele cancels North America tour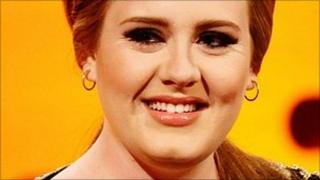 Adele has cancelled the rest of her North American tour because of laryngitis.
The singer had already postponed five shows on her sold-out tour after being diagnosed with the illness last week.
But the Londoner's website said she had been forced to call off the remaining nine dates under medical advice.
Adele said she was "really frustrated, however there is absolutely nothing I can do but take the doctor's advice and rest some more".
"I was hoping with a week's rest I'd be better to sing again straight away," she added.
The singer's tour had been set to resume on 4 June in San Francisco.
However, a specialist "determined it was imperative that she take the next few weeks to recover with absolute voice rest," a statement on Adele's website said.
Plans to reschedule the cancelled tour dates were "being investigated" it added.
The 23-year-old's second album, 21, is the best-selling record of the year so far.
Her single, Rolling In the Deep, is also currently number one in Billboard's Hot 100 chart.