Graham Linehan puts Ladykillers on stage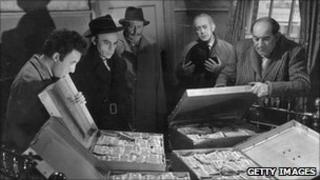 Classic film comedy The Ladykillers is to be brought to the stage in an adaptation by Father Ted and The IT Crowd creator Graham Linehan.
The 1955 film, one of the most famous releases from Ealing Studios, starred Alec Guinness and Peter Sellers.
The theatre version will feature The Thick Of It's Peter Capaldi, comedian Ben Miller and James Fleet, who played Hugo in The Vicar of Dibley.
It opens at the Liverpool Playhouse in November before moving to the West End.
The story follows a group of criminals who rent rooms in the house of an unsuspecting old lady.
Linehan said the action would be kept within the house and would be "more of a farce" than the original.
"By losing some of the elements that go with the film, like the exteriors, we were able to have a bit more room within the play to have a bit more fun with the characters and explore them a bit more," he said.
The original film won two Bafta Awards upon its release, and was nominated for an Oscar for best original screenplay.
A 2004 remake, directed by Joel and Ethan Coen and starring Tom Hanks, was greeted with mixed reviews.
The theatre version will be the first stage venture for Linehan, who is more closely associated with TV comedies including Black Books, The Fast Show and Big Train as well as Father Ted and The IT Crowd.
It will run at the Liverpool Playhouse from 3-19 November, transferring to the Gielgud Theatre in London one week later.