Chris Evans slams BBC 'compliance culture'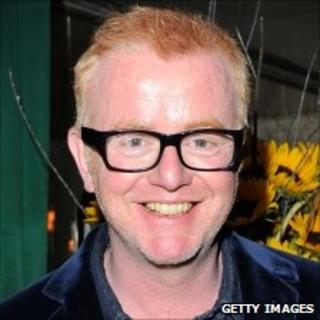 Radio 2 DJ Chris Evans has attacked the BBC's "culture of compliance", calling it "a complete pain in the backside".
"The compliance department of the BBC is so extensive it's an unbelievable nightmare," he told an audience at the Hay Literary Festival in Powys, Wales.
"Sometimes you come up with an idea and the compliance... is so great that you just say, 'let's not bother'."
The BBC strengthened its compliance guidelines in 2008, after a series of rows over taste and decency.
These included the dispute over prank calls made by Jonathan Ross and Russell Brand, and complaints over comments made by Frankie Boyle on BBC Two's Mock the Week.
Compliance guidelines are in place to ensure all programmes undergo a consistent system of checks in order to retain high editorial standards, and avoid unnecessary offence.
Talking to Weakest Link host Anne Robinson, Evans said the new procedures had "completely changed broadcasting".
The Ross-Brand row, he went on, had been an "earthquake" that "was waiting to happen somewhere - it just so happened on that particular show.
"It had to happen," said the 45-year-old. "It was inevitable and it did not surprise me for a second."
According to the former Big Breakfast host, the row had an impact on his own career too, in that it delayed him taking over from Sir Terry Wogan as Radio 2's breakfast DJ.
Sir Terry, he claimed, had wanted to relinquish his post earlier but agreed to stay on an extra year, obliging Evans to remain as drivetime DJ for the same period.
Jonathan Ross was suspended for 12 weeks without pay in 2008, after he and Brand left obscene messages on actor Andrew Sachs' answerphone that were broadcast on Brand's Radio 2 show.
Brand resigned in the wake of the row, described by former BBC Trust chairman Sir Michael Lyons last year as a "uniquely toxic combination of profanity, misogyny, bullying and black farce".
Stephen Fry and Chris Moyles are among other BBC regulars to have railed against new procedures put in place since the row.
Last September, Fry told the Radio Times that BBC executives had "cold feet" as a consequence and were shying away from taking creative risks.