Ennio Morricone to head Rome Film Festival jury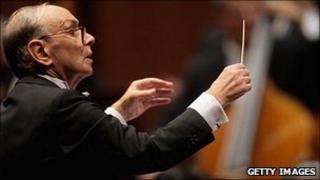 Celebrated composer Ennio Morricone will serve as president of the jury at this year's International Rome Film Festival, organisers have announced.
The 82-year-old, who was born in Rome, has scored more than 500 film and TV productions, including The Good, the Bad and the Ugly and The Untouchables.
Italian ballet dancer Roberto Bolle will join him on the panel to select the winners of the Marc'Aurelio awards.
The festival, now in its sixth year, runs from 27 October to 4 November.
Morricone has received numerous awards and accolades throughout his career, including a lifetime achievement Oscar, five Baftas and two Golden Globes.
Cinema Paradiso, The Mission and Once Upon a Time in America are among the many films to which he has contributed.