X-Men prequel takes leap of faith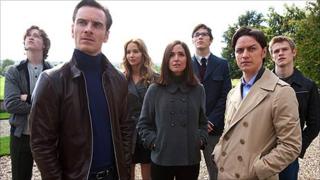 The stars of X-Men: First Class talk about playing mutants, James Bond and the practicalities of appearing in a blockbuster comic-book prequel.
It was watching Matthew Vaughn's 2004 crime thriller Layer Cake that made producer Barbara Broccoli think Daniel Craig could make a great James Bond.
Seven years on, the Bondian trappings of Vaughn's latest project are making some wonder if one of its stars might also have a future playing the suave secret agent.
In dress, manner and tactics, the driven character the German-Irish actor Michael Fassbender plays in X-Men: First Class has much in common with Ian Fleming's suave super-spy.
For the time being, though, the 34-year-old is content to focus on his own film and let the Bond series take care of itself.
"They dressed me in bespoke suits that were pretty cool and that harked back to the early Bond films," says the actor, best known to UK audiences for playing IRA hunger striker Bobby Sands in 2008 drama Hunger.
"But in terms of what I expect or hope for the future, I never plan anything. Daniel is doing a fantastic job, so let's just deal with this movie and see how it does."
With the previous four instalments in the X-Men series making more than $786m (£484m) at the global box office, there can be little worries on that front.
Yet First Class does require a certain leap of faith, presenting as it does younger versions of superhero characters already closely associated with other actors.
Fassbender, for example, plays Erik Lehnsherr, a Holocaust survivor with special powers who appeared in the first three X-Men blockbusters in the villainous guise of Magneto.
In those films the role was portrayed by Sir Ian McKellen. His successor, though, opted not to base his portrayal too closely on what went before.
"When I got the job I thought about studying McKellen - getting my hands on everything I could of him as a young man on screen, studying his voice and physicality and what not.
"And then I sat down with Matthew and he decided that wasn't the way he wanted to go. So I ditched that idea totally and just used the comic book material that was available."
British actor James McAvoy had a similar quandary. In playing the young Charles Xavier, aka Professor X, how closely should he cleave to Sir Patrick Stewart's version?
"There was no point playing him the same way in a different suit," shrugs the 32-year-old star of Atonement and the first Chronicles of Narnia film.
"It was important that we started at a different place while still taking cues from his performance.
"So I looked at Sir Patrick's performance and saw how to make it different. Where he was wise I would be foolhardy; where he was chaste I'd be randy.
"By the end of three films - if we make three films - I'll end up doing something much more like Patrick Stewart."
As McAvoy's remarks suggest, First Class is unlikely to be the final big-screen outing for Marvel's band of occasionally fractious "mutants".
There is the potential, for example, for its heroes to feature in one or more of the other Marvel-based feature films currently in production.
The studio's over-arching concept is for the likes of Iron Man, Thor, Captain America and the Incredible Hulk to come together as a single fighting force.
For the moment, however, the X-Men will continue to exist in their own distinct universe - one that, according to McAvoy, subtly mirrors the real world we live in.
"One of the things that runs through all the movies is they're about people who feel like outsiders," he says.
"They're people who don't like themselves, who are afraid of themselves, who want to be normal or who rejoice in the fact they're not normal."
"Aside from the powers the characters have, they are all really human," reflects US actor Kevin Bacon, whose role as criminal mastermind Sebastian Shaw sees him use his fellow mutant outcasts to pursue his own villainous ends.
"They feel things, they get jealous, they hate and fear and get drunk together.
"That was the challenge from an acting standpoint - to forget about the powers and constantly bring it back to the human side.
"I've also never played a billionaire playboy megalomaniac, so that was cool as well."
X-Men: First Class is out in the UK on 1 June.