Countdown host Jeff Stelling to leave show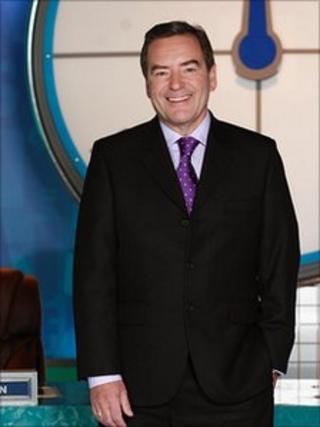 Countdown presenter Jeff Stelling is to leave after less than three years hosting the Channel 4 quiz show.
Stelling told a Tenerife radio station he had resigned from the show to concentrate on his presenting role at Sky Sports where he will front Champions League coverage next season.
A Channel 4 spokeswoman said Stelling would continue to present the long-running show until the end of the year.
She added discussions had already begun to find his replacement.
"You've really got to have your priorities and my priority is football, I love it, and Soccer Saturday, so I've committed myself very much to that next season," Stelling told Oasis FM.
The fourth person to front Countdown, Stelling joined the series in 2009 along with maths whizz Rachel Riley, replacing Des O'Connor and Carol Vorderman.
The host said he would miss working with Riley, adding: "I just felt I had to really try to focus on the things that I love."
Channel 4 said: "Jeff's had a brilliant three years on the show and we're sad to see him go."
Countdown was the first programme to be broadcast when Channel 4 launched in November 1982.
It was originally fronted by Richard Whiteley, who died in 2005, and Vorderman, who spent 26 years on the show.
Des Lynam took over as host following Whiteley's death and was then replaced by O'Connor in 2006.