Sir Ian McKellen's first TV role rediscovered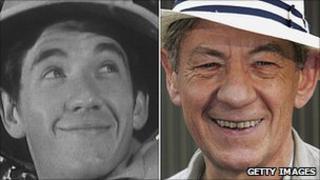 Footage of actor Sir Ian McKellen in his first TV role has been found in the US decades after it was thought lost.
The veteran actor played a character named Plowden in the 1964 BBC period drama The Tomb of His Ancestors.
The programme, based on a short story by Jungle Book author Rudyard Kipling, was no longer thought to exist.
It used to be BBC policy to wipe recordings to recycle expensive tape stock, so only two of the original 25-part series were known to exist.
'Important find'
A copy of the episode featuring Sir Ian was discovered in a private collection in Illinois, and bought by a consortium led by classic TV organisation Kaleidoscope.
The company's Chris Perry described the McKellen drama as an "important find".
He said: "The Tomb Of His Ancestors is a vintage piece of BBC drama set in the days of the British Raj and is especially important because of its connection to Sir Ian McKellen.
"For the first time in nearly 50 years we can once again watch the very first TV appearance by one of the UK's greatest living actors."
Mr Perry added that Sir Ian had not been informed of the find because he was probably "too busy filming The Hobbit".
The programme was filmed as part of a series called Kipling: The Indian Tales of Rudyard Kipling.
Broadcast between July and December 1964, Kipling featured performances from the likes of David Hemmings, Michael Bates, Alfred Burke, Barbara Murray, Keith Barron and Patrick Troughton.
Sir Ian has become a much loved British actor, appearing in Hollywood blockbusters including The Lord Of The Rings and X Men.
He is also well known for his stage acting and in recent years has returned to TV, appearing in The Prisoner and Coronation Street.
Also recovered by the consortium were two other BBC programmes previously thought to be lost - a 1950s ballet production, Giselle, and a 1963 episode of the series Suspense, starring Sylvia Simms.
All three finds have been made available on loan to the BBC for digitisation, after which the original film prints will reside at the Tim Disney Archive's Nottingham facilities.