Privacy row footballer Ryan Giggs named in Parliament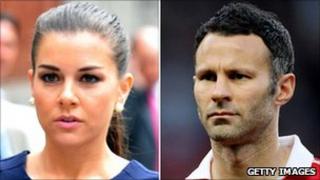 Among my round-up of Tuesday's main media stories is the naming of the footballer in the privacy row by an MP, under parliamentary privilege.
A married footballer named on Twitter as having an injunction over an alleged affair with a reality TV star has been identified in Parliament as Ryan Giggs. Lib Dem MP John Hemming named the Manchester United star during an urgent Commons question on privacy orders, using parliamentary privilege. The BBC reports that the High Court has again ruled that the injunction should not be lifted.
The Guardian says one tabloid reporter at the High Court immediately rang the newsroom to tell them to back off from the player's doorstep. Mr Justice Tugendhat said "this is not about secrecy this is about intrusion" - in effect saying, while the player had been named in one context, trying to obtain information from his friends, family or from Imogen Thomas was still not allowed.
On breakfast TV yesterday, after tens of thousands of people had used Twitter and other websites to name celebrities who had taken out privacy injunctions, David Cameron decided it was time to say that the game was up. Gordon Rayner in the Daily Telegraph describes how the day unfolded.
Rumours that circulated on Twitter that there was evidence that Osama Bin Laden was a fan of The IT Crowd sitcom were an elaborate new media hoax, writes comedian Graham Linehan on the BBC News website. He says he spread a story on Twitter that in some of the videos seized from his compound during the Navy Seals raid, Osama Bin Laden was watching his sitcom The IT Crowd. He explains, "I did it to illustrate the lightning speed at which a rumour can circulate and mutate on Twitter. Only joking! I did it because I thought it would be funny."
MP John Hemming's decision to name Ryan Giggs as the footballer at the heart of the privacy controversy on Twitter dominates coverage in Tuesday's papers, as reported in the BBC's newspapers review.