Bette Midler 'cast in Phil Spector film'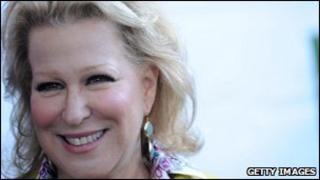 Bette Midler has been cast alongside Al Pacino in a TV film for US network HBO about jailed music producer Phil Spector, according to reports.
The singer and actress will play Linda Kenney Baden, Spector's defence lawyer in his first murder trial, according to the Hollywood Reporter and Variety.
In a retrial, he was sentenced to 19 years in jail for murdering actress Lana Clarkson in 2003.
The film, still in development, will reportedly star Pacino as Spector.
Actor Jeffrey Tambor is also reported to have joined the cast, playing Bruce Cutler, another of Spector's defence lawyers.
Midler's last TV movie, Gypsy, was in 1993. She was nominated for an Emmy award for her portrayal of Mama Rose, the mother of burlesque entertainer Gypsy Rose Lee.
Famous for creating the Wall of Sound production technique in the 1960s, music mogul Spector was known for his eccentric personality and trademark wigs.
He produced more than 25 Top 40 hits between 1960 - 1965 alone and worked with the likes of Tina Tuner, The Beatles and the Righteous Brothers.