Gary Shteyngart wins Wodehouse Prize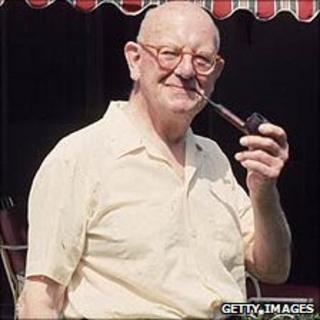 New Yorker Gary Shteyngart is to have a pig named in his honour after becoming the first American to win the Wodehouse Prize for comic fiction.
The author won for his novel Super Sad True Love Story, described as "a dystopian tale set in a near-future, functionally illiterate America".
He will be honoured at the Hay Literary Festival on 4 June, where a local pig will be named after his book.
The award celebrates books that capture author PG Wodehouse's comic spirit.
Shteyngart, who will talk about his work at the festival, will be presented with champagne and a collection of Wodehouse works.
Festival director Peter Florence has described him as "a staggeringly clever satirist who manages to create worlds and people of perfect coherence and outrageous misfortune".
The winning novel - Shteyngart's third - was a mix of "great literature and wild comedy," he added.
Last year saw a pig named Solar after Ian McEwan's award-winning novel.
Other winners in the prize's 12-year history include A Short History of Tractors in Ukrainian and Salmon Fishing in the Yemen.