Newspaper breaks super-injunction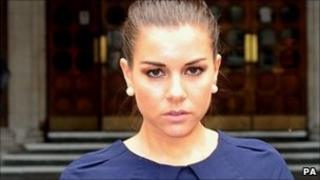 Among my picks of Monday's main media stories are latest moves in the row over injunctions and Twitter.
The attempt to use super-injunctions to gag the media in the internet age reached new levels of absurdity yesterday, says the Independent. A Scottish newspaper became the first mainstream British publication to identify the Premier League footballer attempting to prevent discussion on Twitter about his affair with the former Big Brother star Imogen Thomas. And it was reported that a High Court judge had referred an unidentified journalist to the Attorney General, Dominic Grieve, to consider a criminal prosecution for breaching a privacy injunction with a tweet about another footballer.
The BBC says the Sunday Herald is the first mainstream UK publication to reveal the footballer's identity. Its front page has an image of a man whose eyes are covered with a black bar which features the word "censored".
Steve Doughty argues in the Daily Mail that the footballer's court battle to keep his alleged affair secret has provoked one of the biggest acts of civil disobedience in modern times. Football fans mockingly chanted his name at a match with a worldwide audience. And he was mentioned more than 30,000 times on Twitter, so anyone still unaware of his identity "can discover it with a few clicks of a mouse" says the paper.
The big winner at the Bafta TV awards last night was BBC One's "stylishly updated" Sherlock, reports the Daily Telegraph. It won both Best Drama Series and Best Supporting Actor for Martin Freeman, who plays Dr Watson. But the show's star Benedict Cumberpatch lost out on Best Actor to young comedian Daniel Rigby, who turned in an uncanny Eric Morecambe impersonation for BBC Four's Eric and Ernie.
The BBC's Tim Masters adds that the Baftas brought several surprise wins and thrust new faces into the spotlight. In the leading actress category, Vicky McClure's performance in This is England 86 beat the big guns of Anna Maxwell Martin in South Riding and Juliet Stevenson in Accused.
A controversial book about the Israeli/Palestinian conflict analyses the BBC's coverage and concludes it still fails to present a balanced picture, says the Guardian. Former BBC Middle East correspondent Tim Llewellyn reviews the book and agrees. There's a response from the BBC: "In the Middle East debate there are organised, motivated and effective lobby groups on both sides of the argument. We listen to their concerns and act on them where we think they are justified, but in doing so we bear in mind that our audiences expect us to remain independent of political pressure."
The row over injunctions and Twitter is the lead for the Times, the Independent, the Mail and the Sun, as reported in the BBC's newspapers review.