Bafta TV awards: New faces topple star names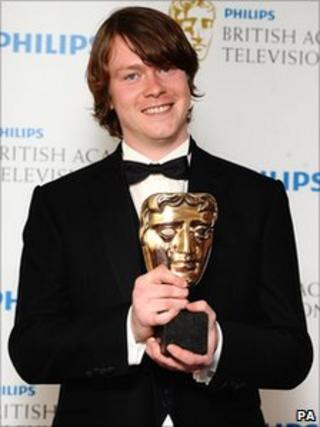 The Bafta TV awards in 2011 brought several surprise wins, and thrust some new faces into the spotlight.
The race for the lead actor prize had been pitched as a battle between Doctor Who and Sherlock, but in the end it was Eric Morecambe who won the day.
Daniel Rigby was rewarded for his pitch-perfect portrayal of the bespectacled comedy legend in BBC Four biopic Eric and Ernie.
Rigby beat off competition from not only Matt Smith (Doctor Who) and Sherlock (Benedict Cumberbatch), but also from Bafta winner Jim Broadbent (Any Human Heart).
"The most daunting thing about the job was the weight of expectation," admitted the actor and comedian backstage after his victory.
"So many people held Morecambe and Wise with such great love because they associated them with family and Christmas. The pressure was immense.
"When the programme came out it was a relief that people didn't stone me in the street for ruining his memory."
In order to perfect the role, Rigby watched "endless clips" of Morecambe and Wise on DVD and the internet.
The comedy duo would surely have approved of Rigby's plans for his golden Bafta mask: "When I get home I will put it on the pillow next to me and talk to it as if it were my partner."
In the leading actress category, Vicky McClure (This is England 86) beat the big guns of Anna Maxwell Martin (South Riding) and Juliet Stevenson (Accused).
McClure plays Lol in Shane Meadows' gritty drama which revisits the characters of his hit film, This Is England, three years on.
"Lol's a really tough character to play and I did give her my all," said McClure, clutching her Bafta, "so being recognised is worth every minute of the pain that I went through."
Shock and awe
Some winners looked genuinely shocked when they heard their names called.
Misfits star Lauren Socha, 20, picked up her first Bafta for best supporting actress, beating tough competition from Jessie Wallace and Lynda Baron (The Road to Coronation Street) and Gillian Anderson (Any Human Heart).
"I didn't see it coming," said the actress, who turns 21 next month. "When they said my name I was completely shocked. This is my birthday present from Bafta."
Socha plays Kelly in E4 show Misfits, in which a group of young delinquents gain supernatural powers in an electrical storm.
"I can relate to her from when I was a teenager," said Socha of her on-screen persona. "She's quite gobby, but I love her."
Meanwhile, Jo Brand said she was "flabbergasted" to win for best female comedy performance in BBC Four's Getting On.
"I never trained as an actor, I've been told I'm not a good actor by a lot of people," the comedian admitted.
Asked what she would do with her Bafta, she joked: "Well, I live in south-east London so I presume I'm going to hit a burglar with it."
Despite missing out on the "continuing drama" prize to EastEnders after celebrating its 50th anniversary, Coronation Street did have cause to celebrate.
'Love letter' to Coronation Street
The BBC Four drama The Road to Coronation Street, about the beginnings of the long-running ITV1 soap opera, won the prize for best single drama.
"I was writing Coronation Street at the time when I had the idea," screenwriter Daran Little told the BBC.
"I just wanted to write a love letter to Coronation Street, specifically to Tony Warren for creating a show that so many people love."
Despite a big turnout from the cast on the red carpet, costume drama Downton Abbey left the Baftas empty-handed.
It was beaten, in the audience category, by ITV2 reality show The Only Way is Essex. It was the only category voted for by the public.
Bafta host Graham Norton said the presence of the ITV2 show's cast had "been a boost to the energy in the room".
But he admitted he had only ever watched one episode.
"I felt I was done then. They live in Essex, they're tanned - I get it."