Ricky Gervais Show clip to appear in Simpsons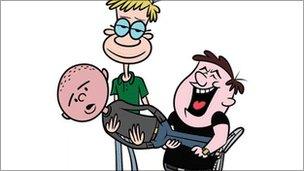 An excerpt from The Ricky Gervais Show is to feature within The Simpsons in an animated comedy cross-over.
The HBO show - which aired on Channel 4 in the UK - animates Gervais, Stephen Merchant and their downbeat sidekick Karl Pilkington in conversation.
"I won't give the joke away but they are featuring a little clip of The Ricky Gervais Show in a future episode," Gervais wrote in his blog.
In 2006, he wrote and appeared in an episode of The Simpsons.
And in February, following his controversial turn fronting the Golden Globes, it was announced he would be back in the show, appearing as an awards host.
Gervais said Pilkington was particularly excited about his appearance in Springfield and had reacted by saying, "good that, innit"?
That reaction was "him being over the moon", Gervais quipped.
Last month it was announced that The Ricky Gervais Show, which started life as a podcast, had been commissioned for a third series. A second series of Pilkington's Sky1 travel show, An Idiot Abroad, will be shown later this year.
Gervais and Merchant, meanwhile, are working on a new BBC sitcom, Life's Too Short, starring British Star Wars and Harry Potter actor Warwick Davis.
Related Internet Links
The BBC is not responsible for the content of external sites.