Lars Von Trier vows to continue making films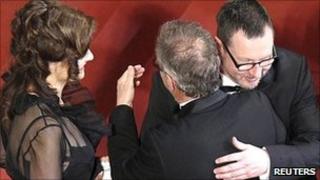 Danish film director Lars Von Trier has vowed to continue making movies, despite his recent ban from the Cannes Film Festival.
His enforced exit, from a festival which once feted him with its top prize, followed a press conference earlier this week in which he joked that he sympathised with Hitler.
He told BBC News it was "completely and absolutely stupid" to make the comments. "I will never do another press conference again, " he added.
"I am sorry for my own sake and I am sorry if I have hurt anyone, that was not my intention at all. It was completely and absolutely stupid."
Von Trier had been expected to cancel all press interviews to promote his latest movie, Melancholia, which is remains in competition for the Palme D'Or at the annual film event.
But the director insisted he would continue with press commitments, because he wanted a chance to explain himself.
"I blame myself, because you can say words in press conferences which can be taken out of context.
"But I was carried away. I thought I was sitting with my friends talking, and then suddenly I was talking to the world," he said.
'Groucho Marx'
A day after he had made the comments, Cannes organisers declared him "persona non grata" at the festival.
Should his film win this year - as he did with Dancer in the Dark in 2000 - the director will not be allowed to pick up his prize personally.
However, he is hoping festival bosses might overturn their decision eventually.
"It's pretty much up to the festival. I accept it," he said.
"My own crazy family would actually be very proud that I was 'persona non grata', not just in Cannes, but anywhere in the world.
"Maybe I am a little like Groucho Marx - I don't want to be a member of any club that would want me as a member."
Von Trier is no stranger to controversy. His previous feature film AntiChrist caused another furore in Cannes in 2009 for its explicit scenes of violence and genital mutilations
Yet he has vowed to continue making films, with The Nymphomaniac apparently already in pre-production.
For most of his childhood, the 55-year-old director believed he was the son of a Jewish man, before he found out his biological father was German.
Von Trier says that was why he joked he was a Nazi, but that his sense of humour had been "lost in translation" by the international media.
"I have thought about it, and when I said, 'I sympathise with Hitler' I would have used 20 words in Danish to explain that I am interested in the man himself, and then hopefully people would have understood.
"I understand these issues are a no-go area. I do like to provoke, but mostly I do it for a reason. I am not a Nazi, or an anti-Semite, and I had nothing to achieve," he said.
"One minute I was trying to explain my use of German Romantic imagery in the film, and somehow from there we arrived at the Third Reich.
"Of course I do not sympathise with Hitler, but I can see the man within Hitler... in his bunker, and I think it's important we understand this man.
"Just to say 'if Hitler was never born there would never have been any problems in the world' is ridiculous. But I am not trying to excuse myself, it was extremely stupid of me."