Lowry's Coronation Street on sale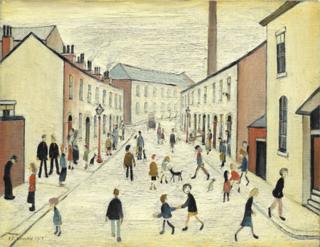 LS Lowry's depiction of the real Coronation Street in Salford, one of the roads that inspired the ITV soap, is to go under the hammer.
The artist painted Coronation Street in 1957, three years before the show's creators borrowed its name.
The painting shows a terraced back street filled with figures and pets, in the shadow of a factory chimney.
It is expected to fetch between £300,000-£500,000 when it is sold by Christie's in London on Thursday.
The soap's set was modelled on nearby Archie Street, which was demolished in 1971.
The show was originally called Florizel Street, but that was changed after a tea lady at Granada famously remarked that it sounded like the name of a disinfectant.
The alternatives were Jubilee Street and Coronation Street - both real roads in Salford.
"It was a street that Lowry knew well," said Christie's director Rachel Hidderley. "As a rent collector he had worked extensively in that area."
Such scenes incorporated Lowry's memories of Salford streets from before World War II, she added.
"They're inspired by his livelihood of wandering through the streets and seeing that old-fashioned view of Manchester. It's a typical Lowry street scene."
The painting has been on long-term loan to the Lowry gallery in Salford since 2000.
It is one of a number of Lowry works to be sold on Thursday. The other lots include The Football Match, which is valued at £3.5m-£4.5m.
The highest price paid at auction for a Lowry currently stands at £3.8m for his painting Good Friday, Daisy Nook in 2007.