The Pierces: 'We had the shortest break-up in history'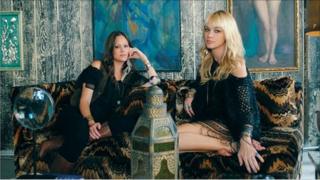 American sister rock duo The Pierces, in the UK to promote their fourth album, talk about their colourful background, including breaking up, being reunited thanks to Coldplay and being kidnapped by a cult.
Meeting The Pierces is an odd mix of glamour and domesticity.
The sisters Catherine and Allison Pierce are well-groomed and ready for the day, even though it's the non-rock star hour of 10am.
Their East London penthouse displays remnants of last night's self-cooked curry, while freshly-ground coffee bubbles away on the stove.
This peculiar scene derives from a single purpose: The New Yorkers have temporarily moved to London to promote their fourth album. And they'll be damned if they're meeting the press without full hair and make-up.
If they seem unusually devoted, it's because they nearly didn't make it this far.
"We've been singing professionally since we were little kids and we'd been doing it professionally for over 10 years," explains Allison, the elder sister.
"But in 2008 we got to the place where the energy had gone. We felt like we'd been beating a dead horse. So we broke up.
"And then the very next day, Guy Berryman, the bass player from Coldplay called us and asked us to support them in South America.
"We took it as a sign to get the band back together."
"It was the shortest break-up in history," Catherine says. "One night. That's it."
Reformed and reinvigorated, the sisters chose not to tour with Coldplay, but accepted Berryman's offer to produce their album. Then they "cast a spell" to get a record deal and, within days, Polydor came calling with an offer.
Tales of sorcery and passion loom large in the Pierces' back story.
Their previous band biography described how, aged 16, Allison was kidnapped by "a radical born-again, gypsy dancing troupe that whisked her around the country on a dilapidated bus".
Catherine was once engaged to The Strokes' Albert Hammond Jr. Neither sister will admit their real age - and no amount of Googling yields an answer.
Director Tim Burton would love characters like this. Coincidentally, The Pierces music would fit perfectly into one of his movies.
Take, for example, Love You More, the first track the released off their album, You & I. It's a baroque tale of burning devotion.
"Do we fall in love easily? We try to," says Catherine.
"What's the point if you don't?" her sister asks.
"It's no fun to fall half-way in love."
Stage fright
The Pierces have been surrounded by music since they were born in Alabama.
Raised on Joni Mitchell and James Taylor, they taught themselves harmony by copying Simon and Garfunkel.
Their father was a musician, too, and Allison would often watch him perform from the theatre's wings.
"It was actually intimidating, because he was so free. He was doing toe-touches and climbing the rafters," she says.
"When we got on stage, part of me felt like that was expected, so I froze up. It was terrifying for a long time."
Perhaps because of their father's unruly antics, both sisters sought the rigours of ballet as children.
"I think I learned how to be a disciplined person through it," says Allison.
Was professional dancing anything like Black Swan?
"As far as the ballet company is concerned, the competitiveness and the strictness? That's pretty dead on," says Catherine.
"But that film's also about watching a woman descend into madness," Allison adds, "so it's a little exaggerated."
Nonetheless, the sisters found ballet's discipline to be a benefit in the lawless lowlands of the music industry.
"Rock and roll's not as physically demanding as dancing - but you have to be mentally prepared," Allison says.
"The cliche is that you go crazy and party, but you have to devote yourself to it.
"So I've known crazy, drug-addict musicians that were still very disciplined about their music."
They won't name names, but it's unlikely they're talking about their time in Coldplay's Bakery studio in London.
Guy Berryman, they say, was "very organised" as a producer, dividing his time between The Pierces record and his own.
"And we actually sang on a Coldplay song," says Allison.
"I think it got scrapped," Catherine adds.
Allison isn't so sure. "They started a record," she says, "and then they scrapped it.
"But I heard they pulled the first, initially scrapped, record out and started work on it again. And that's the one we were on.
"So I won't know if we're on it or not until it actually comes out."
This idea of constant revision, spending months and months on a single project, is an alien concept to the Pierces.
"I don't have the patience," Catherine says. "I don't want to change things. I just want to start the next record."
"I know some artists really struggle over their songs," Allison says. "I heard that Billy Joel worked on that song, 'in the middle of the night, I go walking in my dreams' [River of Dreams] for years, trying to perfect it. I could never do that.
"When I'm struck with inspiration, the song comes so quickly that I just have to let it out.
"I'll tweak it here and there, maybe, but generally it arrives fully formed.
"But then, Billy Joel is not exactly hurting, so I wouldn't mind being in his boat."
You And I is out on 30 May on Polydor Records.