British Museum up for Art Fund Prize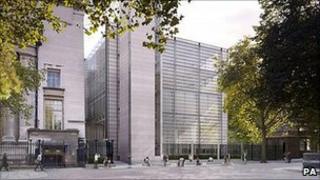 The British Museum in London is one of four cultural establishments that have been shortlisted for this year's £100,000 Art Fund Prize.
The list also includes the Polar Museum in Cambridge, The new Robert Burns Birthplace Museum in Scotland and The Roman Baths Museum in Bath.
Chair of the judges Michael Portillo said the venues all "exhibit remarkable innovation and flair".
The prize will be presented at Tate Britain on 15 June.
The British Museum was singled out for its project A History of the World.
The exhibition was held in tandem with BBC Radio 4's series A History of the World in a 100 Objects - a narrative of global history using the museum's collection of artefacts from two million years ago to the present day.
The Roman Baths Museum in Bath was shortlisted for its £5.5m restoration project. Built around Britain's only hot spring, the museum and archaeological site contributed towards Bath's inclusion on the UNESCO list of World Heritage sites.
Originality and excellence
The prize longlist, which was made up of 10 museums and galleries, was announced on 2 February.
Since then the panel of judges have visited each venue to decide on which institutions would be suitable for the shortlist.
Mr Portillo said it had been "stimulating" travelling across the country to visit establishments "so varied in size and scope".
"Choosing a short list was not easy but we are agreed that these four museums and galleries exhibit remarkable innovation and flair, which excited us and clearly draws in the general public too," he added.
The purpose of the prize is to recognise originality and excellence in museums and galleries in the UK.
Last year the prize went to the Ulster Museum in Belfast.
Separate to the main prize, a shortlist for the inaugural Clore Award for Museum Learning has also been announced.
The £10,000 award recognises quality and innovation in using museums and galleries for learning activities.
The list includes Museums Sheffield: Weston Park; the National Museum of the Royal Navy; South London Gallery; The Pitt Rivers Museum and the Oxford University Museum of Natural History; and Tyne & Wear Archives and Museums.