Woody Allen to team up with Ethan Coen on Broadway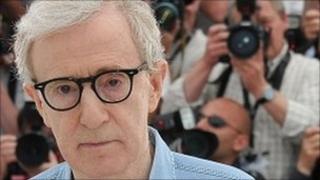 Woody Allen, Ethan Coen and screenwriter Elaine May have written three one-act plays to be shown together on Broadway later this year.
Actor John Turturro, a favourite of True Grit director Coen and his brother Joel, will direct the mini plays, entitled Relatively Speaking.
Allen told The New York Times that his play would be called Honeymoon Hotel.
The director revealed his production would be "a broad comedy, for laughs, no redeeming social value."
Coen - who, alongside his brother has co-directed and produced Academy-award winning films such as No Country for Old Men and Fargo - is making his debut on Broadway with his play Talking Cure.
May - twice Oscar-nominated for Primary Colors (1998) and Heaven Can Wait (1978) - has written a new work entitled George is Dead.
In 1995, Allen collaborated with May and David Mamet on Death Defying Acts, three one-act comedies which ran for nearly a year.
Previews of the new plays will take place in September with the opening scheduled for October.
Allen, who made his Broadway acting debut in 1969, said he would not be in the cast.
His last foray into theatre was in 2004, when he directed the play A Second Hand Memory - about two generations of defeated dreamers in 1950s Brooklyn.