Thor continues box office reign in UK and US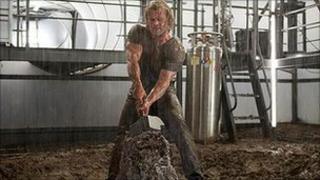 Thor is still the top movie in both the US and the UK after a weekend that saw the superhero film hold off competition on both sides of the Atlantic.
In the US and Canada, Kenneth Branagh's fantasy blockbuster saw off a challenge from the raunchy comedy Bridesmaids.
In the UK and Ireland, meanwhile, it vanquished newcomer Attack the Block.
Yet the Norse god of thunder may have to relinquish his throne this weekend with the release of the fourth Pirates of the Caribbean film.
Pirates of the Caribbean: On Stranger Tides arrives in UK cinemas on Wednesday, two days ahead of its US debut.
On its second weekend on release in the US and Canada, Thor made $34.7m (£21.3m) - just over half of its debut weekend tally of $65.7m (£40.3m).
Bridemaids, in contrast, made $26.2m (£16.1m) between Friday and Sunday, takings that earned it second place in this week's countdown.
On this side of the water Thor continued to perform strongly, making £1.36m on its third weekend in UK and Ireland cinemas.
Attack the Block, an urban sci-fi film directed by broadcaster Joe Cornish, made £1.13m over the same period.
That saw it ranked third in this week's box office countdown, behind Thor and action sequel Fast and Furious 5.
On a screen-by-screen basis, however, Attack the Block was the week's strongest performer, recording average takings of £3,221 from its 352 locations.