Reworked Spider-Man musical pulls in crowds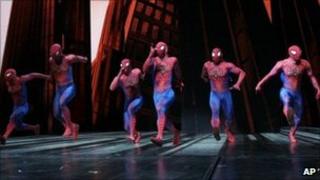 Broadway's troubled Spider-Man musical has performed well since reopening in a reworked version after a three-week break, box office figures have shown.
According to data released on Monday, Spider-Man: Turn Off the Dark has played at 95% capacity since reopening its doors on Thursday.
The latest version of the show will have its official opening on 14 June.
The show has been dogged by accidents and technical hitches since it first began previewing in November.
The overhaul followed the departure of Julie Taymor, the musical's original director, in March.
The version now running at New York's Foxwoods Theater includes new songs from the show's composers, U2 members Bono and the Edge, and is said to have more humour.
"This is almost a brand-new show," said producer Michael Cohl last week.
Among the cast is Christopher Tierney, who has returned to the production following a serious on-stage accident in December.
The actor suffered a fractured skull, a fractured shoulder blade, four broken ribs and three broken vertebrae after falling 30ft.