Coen brothers win $1m Dan David Prize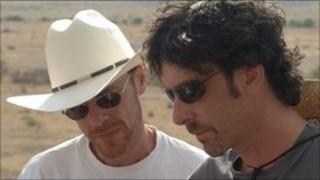 Movie directors Joel and Ethan Coen have won a $1m (£617,000) international award for "a creative partnership unique in the history of film-making".
The pair were given the Dan David Prize - awarded to people who have made "an outstanding contribution to humanity" - at Tel Aviv University in Israel.
Joel Coen said their mother lived in the British mandate of Palestine before Israel's creation in 1948.
"Our mother tried to get us to come here for many, many years," he said.
"But, you know, life intervenes - we've been busy."
The awards, established by international businessman and philanthropist Mr David in 2002, give three annual prizes in "past, present and future" categories.
The Coens join previous winners of the "present" award including former British Prime Minster Tony Blair and environmental campaigner and former US Vice-President Al Gore.
The prize's citation said their debut movie Blood Simple showed their abilities as "young film-makers whose grasp of film genres, dark comedy and the capacity to bring narrative complexity to apparently simple plots became hallmarks of their future films".
Their "impressive list of films" had "garnered countless awards", it added.
In 2008, they won Oscars for best directing, best screenplay and best picture for No Country for Old Men, while in 1997 they picked up the writing award for Fargo.