Jedward beaten by Azerbaijan in Eurovision final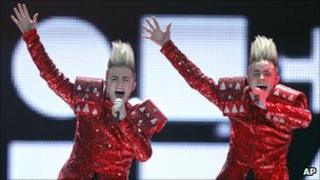 Irish teenage twins Jedward failed to win the Eurovision Song Contest final in Germany but finished a respectable eighth.
John and Edward Grimes, 19, who found fame on The X Factor, performed their song Lipstick on Saturday night.
Azerbaijan was crowned the winner of this year's Eurovision, while the UK came 11th.
Jedward were among 25 acts in Saturday's grand final, including Blue, who sang I Can for the UK.
The pair were dressed in red sparkly jackets with big shoulders for their frenetic performance.