Cannes gets talking about British Kevin drama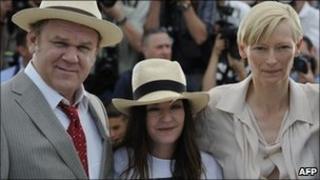 Critics have heaped praise on We Need to Talk about Kevin, the only British title in contention for the main award at the Cannes Film Festival.
Variety said it was "an exquisitely realised adaptation of Lionel Shriver's best-selling novel", while Screen Daily called it "compulsively powerful".
Lynne Ramsay's film stars Tilda Swinton as a mother coming to terms with her son's part in a high school massacre.
Scottish director Ramsay told reporters it was a "a psychological horror film".
"There's no violence in this film," the 41-year-old said at a press conference on Thursday. "You only see the aftermath.
"Every Hollywood movie is more violent than this."
Swinton, 50, said the film's "nightmare scenario" was "not that far from the everyday experience of being a parent".
"It's a bloody business, having a family," said the actress, the mother of teenage twins.
"It's certainly a very bloody business being a parent, and it's a really bloody business being a child."
The Hollywood Reporter said the British actress "gives a tour-de-force performance" in Ramsay's "coolly cerebral" drama.
According to critic Kirk Honeycutt, though, it was "a film to think about and debate over but not one to embrace".
The 64th Cannes Film Festival began on Wednesday on the French Riviera and continues until 22 May.
We Need to Talk about Kevin - which was partly financed by BBC Films and the now defunct UK Film Council - is one of 20 titles competing for the prestigious Palme d'Or award.
Elsewhere at the festival, Hollywood stars Angelina Jolie, Jack Black and Dustin Hoffman have been seen in the company of a large fluffy panda.
The trio are in town to promote Kung Fu Panda 2, the sequel to the 2008 animated film which featured their voices.