Radio listening reaches new high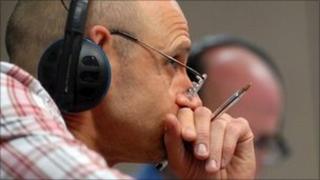 A record number of people in the UK are listening to the radio, with 47.3m tuning into at least one station each week, according to Rajar figures.
BBC Radio 4 drew a record average weekly audience of 10.83m, from January to March, with its Today programme breaking 7m for the first time.
Talksport, named national station of the year this week, reached 3.25m listeners a week for the first time.
BBC Radio 2's Chris Evans remains king of the breakfast shows with 9.18m.
That compared with the 7.52 million who listened to BBC Radio 1's Chris Moyles.
There were also record figures for BBC stations Radio 1, 1Xtra and 6 Music
Today, whose presenters include Evan Davis and John Humphrys, added 600,000 listeners in comparison to the same period in the previous year.
And Talksport added almost 900,000 listeners in a year.
On Monday night, it became the first commercial operation to win the Sony Radio Academy Award for national station of the year.
Overall, commercial radio had a record audience of 34 million listeners a week.