National Movie Awards look to the summer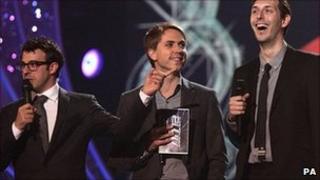 The National Movie Awards are unusual - compared to most other film awards - in that they look ahead, as well as back at the past year.
The NMAs stand somewhat isolated from the main film awards season, which starts in December and then gathers steam as it heads towards the Oscars in late February or March.
This year's NMA ceremony - the fourth to be held since 2007 - was perfectly positioned to capitalise on the forthcoming summer rush of animated blockbusters, sequels and superheroes.
The first arrivals on the red carpet at London's Wembley Arena were a giant Kung Fu Panda and The Smurfs. Both appear soon in 3D at a cinema near you.
When the human celebrities did arrive, many had future releases to tout.
Inbetweeners stars Simon Bird, Joe Thomas and Blake Harrison were there to present the comedy award and promote the movie spin-off of their TV hit.
The film, out in August, sees the boys up to mischief on holiday in Crete. "All we're thinking about is that it's not quite finished yet," admitted Thomas.
Formula 1 star Lewis Hamilton was there to show off footage from Cars 2 - in which a racing car shares his name.
Elsewhere, pop stars rubbed shoulders with movie stars, with Australia's Geoffrey Rush chatting to the press alongside boy band JLS.
Rush had the dual role of picking up gongs for The King's Speech, as well as to signpost the imminent arrival of Pirates of the Caribbean: On Stranger Tides.
Speaking of the four-year gap since the last Pirates movie, Rush said: "It took quite a bit of time to reinvent a fresh story and introduce some vibrant new characters.
"I saw it LA last week - it's like a screwball comedy with high action and an almost poetic love story."
Even as Rush announced a screen icon award for Johnny Depp, the Captain Jack Sparrow actor was en route to join Rush for the UK premiere.
'Dream come true'
Take That kicked off the NMA show with a song from prequel X-Men: First Class.
One of the film's leads - Scottish star James McAvoy - was also there to hand out a fantasy award to Harry Potter and the Deathly Hallows Part I.
Part II didn't go unrewarded. It picked up the must-see movie of the summer award - a forward-looking category introduced last year.
Backstage, Potter producer David Heyman said: "If the first film is more intimate, this is more epic, operatic entertainment and yet there are still tender, wonderful character moments that make the films what they are."
He added: "I think we do bring the series to a conclusion that Jo (Rowling) and the fans so richly deserve."
Gossip Girl star Ed Westwick, who presented the must-see award, spoke backstage about being directed by Clint Eastwood in J Edgar - a forthcoming biopic on FBI director J Edgar Hoover (played by Leonardo DiCaprio).
"It was a dream come true to be in that kind of company - Clint Eastwood is a legend. It was one of those things, you wake up and wonder is this real?"
There was also a sense of disbelief from Twilight and Harry Potter actor Jamie Campbell Bower - who won the one-to-watch award.
"I'm actually really shocked people know who I am," he said. "I feel very humbled by this."
He did however find to time to mention he plays the young Earl of Oxford in Roland Emmerich's forthcoming historical thriller, Anonymous.
The film, out in September, also stars Rhys Ifans and Vanessa Redgrave and concerns the true authorship of Shakespeare's plays.
When the NMAs did look back, it was The King's Speech that dominated the view.
Its director Tom Hooper admitted he hadn't expected to win any more prizes after the Academy Awards.
"I was under the mistaken impression that the Oscars night was it, but we're all here to prove that's not the case.
"I'm thrilled tonight because it's a people's choice awards, and the first award that this film won was the people's choice award at Toronto."
That was September 2010. Following a freefall of awards, Hooper is already in talks on a new project.
But, unlike those summer films queuing up for release, he's happy to stay quiet for a little bit longer.