Do modern pop stars 'just pose at singing'?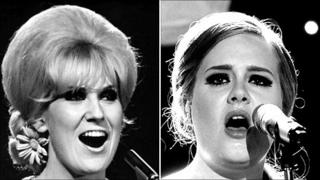 Bee Gee Robin Gibb has spoken out against modern pop stars, complaining they "just pose at singing". But can today's female pop stars hold a candle to the likes of Dusty Springfield?
Gibb, unveiling a commemorative plaque in Springfield's honour at her former home in London, paid tribute to the British songstress as "the genuine article" and "probably the greatest female popular singer in the modern pop rock era".
"Since 1963, there's been no one to match her," added the 64-year-old.
"This includes the United States as well - they can't come close to her."
The NME's Paul Stokes is similarly gushing over Springfield's ability.
He describes the singer, who died in 1999 and whose hits included You Don't Have to Say You Love Me and Son of a Preacher Man, as "a complete one-off and an absolutely amazing iconic talent".
"I can see where he's coming from on one level because I think its easier to succeed today and not be a unique or supremely talented vocalist," he adds.
"There's a lot that can be done in production."
But he says Gibb is wrong to say "no-one's touched her or to say there haven't been any unique talents since Dusty", citing Annie Lennox as one of a number of singers who have "risen to the top to shine out".
More recently, adds Mr Stokes, the achievements of Adele, whose record-breaking second album 21 is currently enjoying a 14th week at number one, have been earned "through sheer force of her talent".
Rather than relying on a slick image or marketing campaign her success is down to people reacting to her songs, he says.
The splintering of pop music since the 1960s has had an impact on the types of singers that have been able to make their mark, he contends.
"I think you find some great vocalists in different fields like Karen O - the frontwoman with [New York indie-rockers] the Yeah Yeah Yeahs - she's perhaps not a classic pop vocalist but, as an individual, she absolutely stands out."
'Centre of spectacle'
He also picks out British singer PJ Harvey as an "absolutely amazing" vocalist and songwriter.
"They are genuine talents and they are idiosyncratic and as individual and vocally talented as Dusty, I would argue," he adds.
Music Week's Ben Cardew agrees that Gibb's verdict on the stars of today is "a bit harsh".
"There are, of course, many different ways that poor singing can be corrected these days, auto-tune being a notable example, which means poor or limited singers can get away with more," he says.
"But that certainly doesn't mean the likes of Adele etc can't sing - in fact, with her, I would argue the opposite."
He says Gibb's comments underplay the demands placed on modern day singers as brands.
"If you look at some of the incredibly elaborate concerts pop stars do these days - like Madonna's recent tours or Lady Gaga's Monster Ball tour - there's so much more to being a modern singer than just singing.
"You are the centre of a whole spectacle."
The NME's Paul Stokes says that, as well as the amount of touring expected, the stiff competition now faced makes it as difficult as ever for singers to make their mark.
"But you also have to remember that a singer like Dusty had to break through the old boys' club of how much say and influence you have over your own career.
"I remember reading a lot about her touring South Africa and demanding not to play segregated crowds."
Springfield undoubtedly came from a time when female performers were expected to concentrate on singing songs, leaving important decisions about their career to businessmen.
"But she managed to push back against that so I think she had it pretty tough to be the artist that she wanted to be."
Interviews conducted by BBC News entertainment reporter Liam Allen.