Nicole Scherzinger and Steve Jones to host US X Factor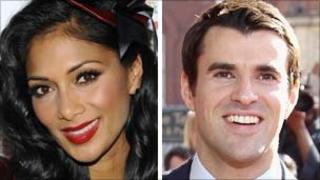 US pop star Nicole Scherzinger and Welsh TV presenter Steve Jones will host the American version of The X Factor, it has been announced.
Former Pussycat Doll Scherzinger, who appeared as a judge on the UK version of the show last year, said she was "thrilled" with her new job.
Jones, said he "couldn't be happier" about co-hosting the programme.
On Thursday, it was announced Cheryl Cole will join Simon Cowell and Antonio LA Reid on the judging panel.
Cowell, who created the show, said he thought the two presenters would be "great together".
He added: "I have always wanted Steve to work with us, I think he is a real star. Nicole is fantastic. I loved working with her on the UK X Factor last year. She is gorgeous and super-talented."
Jones, who is best known for presenting Channel 4's weekend entertainment programme T4, said: "The ability to work day in and day out with Simon Cowell is a dream come true.
"I have been approached about working in the States before, but never felt right about those opportunities, but when The X Factor came up, I leapt at the opportunity."
Mike Darnell, president of the US channel Fox, said: "Nicole is a triple-threat performer who knows how to captivate an audience, and Steve is an accomplished presenter whose original sense of humour has charmed viewers worldwide.
"Both possess the unique combination of personality and credibility that we were looking for in our hosts. They're incredibly charismatic, undeniably gorgeous, and fantastic entertainers in their own right."
The X Factor looks for undiscovered talent from the age of 12 or over, who will be given the chance to win a $5 million (£3m) recording contract.