BBC Prom tickets are snapped up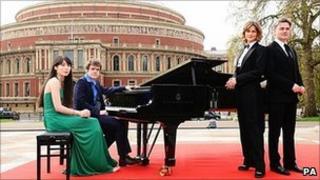 A record number of BBC Proms tickets have been sold within the first 12 hours of being made available, the corporation has announced.
More than 85,000 were shifted - up by 7% compared with last year - and 376 tickets were sold every minute in the first hour.
The series of classical music concerts take place from 15 July at London's Royal Albert Hall.
Tickets for the other events are still available.
All the seated tickets for Gustavo Dudamel and the Simon Bolivar Symphony Orchestra sold out within three hours.
Verdi's Requiem and Havergal Brian's gargantuan Gothic Symphony have also all gone.
However, up to 1,400 extra tickets are released on the day of each concert.
Proms director Roger Wright said: "We're delighted that so many people have been able to get their tickets successfully and look forward to welcoming them to the Proms this summer."