Suggs lands role in BBC Radio 4 play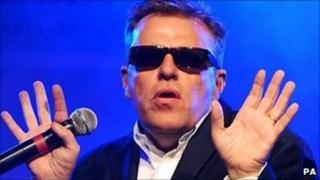 Madness frontman Suggs is to star in a BBC Radio 4 drama, it has been announced.
The singer - whose band's hits include Baggy Trousers and House Of Fun - has landed the lead role in a drama called Deep Down And Dirty Rock'n'Roll.
The star - whose real name is Graham McPherson - will play an ageing musician whose rock and roll lifestyle has left him in serious debt.
The drama will be broadcast on 14 May as part of the station's Saturday Play.
"Suggs was warm, funny, very directable and he brought the reality of the rock business with him, which was great for the play," producer Claire Grove said.
Suggs has already appeared in some TV and film productions, including The Edge Of Love and Our House, the Madness-themed stage musical.
He also co-starred in a musical comedy for Radio 4 called I Think I've Got a Problem, with the late Bob Monkhouse.